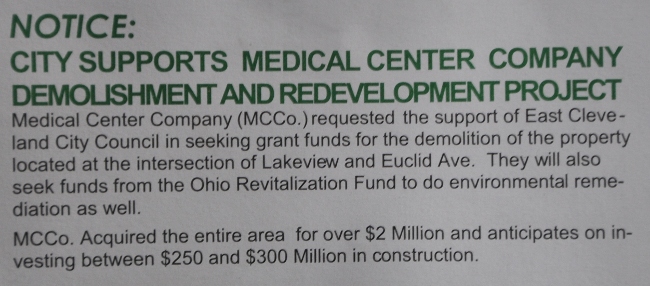 Meet the biggest development secret in unreal NEO, that makes the Opportunity Corridor look like heaven on Earth - here is the big opportunity being rammed through East Cleveland... although we've never seen a plan... you've only read about it here, on realNEO, because the PD is part of making this happen, obviously... you think Litt didn't know about THIS, when he wrote this [1]?
And you think bad shit goes down in your neighborhood.
Let's learn about plans by the great and mysterious Medical Center Company - the company that has been mysteriously polluting my neighborhood by burning coal in University Circle for over 75 years [2] - that wants to do more "development" in MY BACKYARD... and it seems my city approves. I just read about that in a big, expensive printed magazine mailed to every house in my ward from my Ward 2 Councilwoman, Barbara Thomas - on the back cover, in big writing... The Gods have spoken.
I live by a different God. I hope the other citizens of EC are equally God-fearing, as our leadership apparently is not.
It seems the interests of these people - this MCCo and its backers - are why my boys were lead poisoned.
Our community will do no better if we put up with this type of treatment from our leadership. I'm contacting the FBI... there have been too many irregularities around this property over the past 4 years for it all to be legal.
Litt, what's the real story about development coming out of UCI, and pollution coming out of MCCo, into EC. This is not the way for a newspaper to keep citizens informed. I've reached out to people I thought were friends at University Hospitals and they have proved not to be friends.
Tell us what you know about any of this, all of you... Trolls included.
Thanks Bob - thanks Peter... this is for you.
My boys no longer need you.