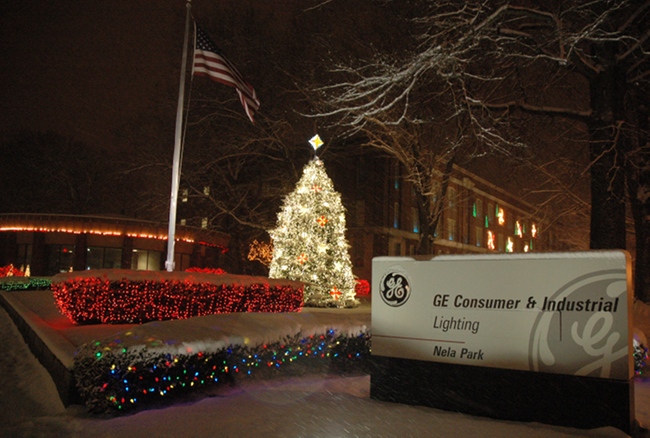 I try hard to ignore what folks at Cleveland City Hall and City Council do, day to day, their performance is so depressing. I just expect the worst and hope that won't harm my children. So I have not been following the odd trade missions Jackson's people have apparently been making to the Far East lately (when, on what Fundation's dime, why) cutting odd long-term deals with Chinese lighting companies promising to bring clean jobs to America (does "clean jobs" even translate into Chinese?). Jackson... 10 year deal... "Far East" trade mission... Sunpu-Opto... yeah, right. I like touring China too... sounds well worth the effort?!?! 77% of Clevelanders did just re-elect Jackson, and the Foundations and PD love the man, so let it ride...
But then I noticed GE has attacked the Mayor for his jet-setting wheeling-dealing economic development ways and I realized I'm not alone in this backwater slum of East Cleveland noticing what a mess Jackson and his cronies are making of the region and world, now that he has gone global. Some important people like the shareholders at GE are starting to care.
That is even better news than if the FBI had stormed City Council chambers - at around $150 billion in revenues, GE is more powerful than the FBI, and has more political clout, resources and lawyers than the Pope. From Wikipedia - In 2009, Forbes ranked GE as the world's largest company. The company has 323,000 employees around the world... that's nearly the number of families residing in Cuyahoga County.
Clearly, GE Corporate - INTERNATIONAL - is concerned Jackson's crack legal and development team at City Hall is setting BAD global precedent for municipal lighting sourcing and contracting - so bad GE must take a high profile corporate legal stand, and spend their money on their expensive lawyers to stop the mayor of little-old Cleveland before he makes a big, long-term mistake harming all citizens of the region, and GE corporate.
I've worked with GE's global IT leadership and they are as good as IT gets... and I know GE has exceptional management across the board, including for legal.
Today the PD reports "GE lawyers call proposed Cleveland lighting agreement with Chinese company 'bad for city' [1]", leading off Attorneys for GE Lighting [2]contend that a proposed agreement between Cleveland and a Chinese LED manufacturer could be unlawful and a "bad deal for the city, its taxpayers and businesses loyal to the city".
The article quotes many GE claims against Cleveland that are likely true, with one claim I am certain is true: GE's attorneys say Cleveland will not get the best price unless it seeks separate bids for each type of LED lights. They also argue that the city should not make a 10-year commitment given the evolving LED technology. A long-term deal could prevent Jackson's successors from doing "what is best for the city," the letter said.
Cleveland's crack legal team, led by the guy Jackson "defeated" for mayor a lifetime ago (y'all grown roots there yet?), says GE is wrong. He writes Cleveland is gaming economics... from the PD: Cleveland has cited the so-called sole-source exemption in defense of the Sunpu-Opto deal, and Triozzi reiterates the argument in his letter. The city "can decide that it wants to replace all of its existing lighting with energy-saving LED products from any supplier that is willing to provide a price that will be at or below the price of any similar product on the market, establish a manufacturing company in Cleveland, and create a minimum of 350 jobs in the city."
I'd like to see every such deal the Jackson administration (Mayor and Council President) has cut that has worked out - the long term jobs created by gaming economics in such ways. I think it is a net loss. So, it seems, does GE.
Cleveland is a large enough market to offer a foreign competitor a nice foot-hold in the US, if they may gain a monopoly advantage here... or so they may think.
Mayor Jackson cut a similar no-bid, long-term deal for optimization of another important asset of the region - development of the city website - a few years back, giving special terms to CampusEAI [3] to "donate" the city web portal to us, and now we are locked-in to their product. Is it free, and does it light the way for citizens [4]?
The fact the City of Cleveland entered into a long term contract to buy AMP-Ohio coal-powered energy shows we may not trust our leadership to analyze and vote on long term economy-impacting contracts - the entire AMP-Ohio project proved to be lunacy.
I considered the city strategy for power management and web presence development here foolish, and I sense their strategy for LED lighting presence development here is foolish as well.
I base that on my observations of overall historic and current City of Cleveland contracting incompetency, their poor decision support systems, and their lack of real economic development analytic and planning expertise. That the city is so dependent on area foundations and universities for decision support raises concerns about where is the Mayor's center of competency in making this important 10-year decision - who are the individual city employees, analysts and consultants supporting the data behind this contract, and who has been involved in any and all related trade missions and negotiations - shine all lights.
Specifically, I'd like to know every daily detail about the following, from City of Cleveland's talks with Chinese LED lighting company continuing [5]: Henderson's March trip to China was his third since last year. He first made contact with Sunpu Opto officials in August during a trip to Japan and China to study waste-to-energy technology and returned to China in December to continue talks with the company.

GE is saying leadership in Cleveland is gaming economics and causing their 325,000 person community and the world harm.
I've been saying about the same thing for 6 years... leadership in Cleveland is gaming economics and causing our 350,000 family Cuyahoga County community and the world harm.
GE may finally shine enough global light on our leadership failure here to force change, when citizen leaders have failed. While I am far from a blanket fan of global conglomerates, I am far more a fan of GE leadership than I am of our leadership here in Cleveland.
As a last consideration, in all this, GE Lighting, in my current hometown of East Cleveland, is one of our sources of pride and opportunity in this community - Sunpu Opto is not.

It may be smart to pay attention to what the GE lawyers are saying here - perhaps GE should take their message to the people.