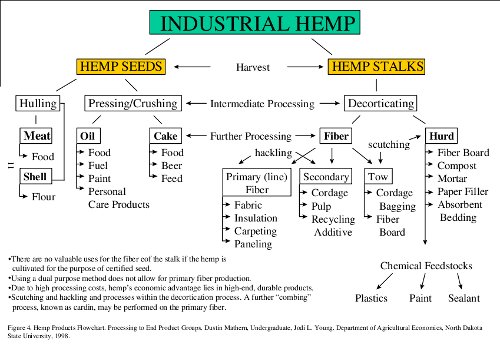 Figure 4. Hemp Products Flowchart. Processing to End Product Groups.
Industrial Hemp as an Alternative Crop in North Dakota - A White Paper Study of the Markets, Profitability, Processing, Agronomics and History
David G. Kraenzel, Tim Petry, Bill Nelson, Marshall J. Anderson, Dustin Mathern, Robert Todd
The Institute for Natural Resources and Economic Development (INRED) - North Dakota State University
Agricultural Economics Report No. 402 - July 23, 1998
Abstract: This report is in response to a national and state interest in the potential benefits of industrial hemp as an alternative crop. Industrial hemp has many uses which can be categorized into nine submarkets. North Dakota may have a comparative advantage in producing industrial hemp seed for oil because of the multi-oil processing facility in Carrington (AgGrow Oils) and the established infrastructure. Industrial hemp is currently legally produced in 22 countries with Canada being the closest and is recognized as a legal and legitimate crop in both the NAFTA and GATT agreements. The main obstacles for legalization of industrial hemp appear to be 1) law enforcement officials are concerned about the regulation, 2) no domestic facilities currently exist to process hemp stalks, although Canada will have such facilities shortly, 3) there is a lack of current production and processing technology, and 4) lack of research on the production potential and quality aspects of the crop. Since very little is known about the potential yield and quality of industrial hemp fiber and seed that would be produced in North Dakota, it is recommended that controlled experimental production and processing be allowed. Necessary baseline production, processing, and marketing data could be collected and analyzed, and law enforcement concerns could also be addressed.

In Conclusion: Literature revealed that production and processing of industrial hemp has the potential to be a viable industry in the United States and possibly North Dakota. The fact that hemp was grown successfully in southeastern North Dakota in the 1940s indicates that it will grow here. Advantages from an agronomic standpoint seem to be that it requires few pesticides or herbicides, is relatively disease free, and is a good rotation crop because it may en- hance yields in crops that follow it.

Recommendation: Since industrial hemp may have potential as an alternative rotation crop, it is recommended that the North Dakota Legislature consider legislation that would allow controlled experimental production and processing. Then, necessary baseline production, processing, and marketing data could be collected and analyzed. For example, all new enterprises require a critical threshold volume (CTV) in order to succeed in terms of economic profit. What is that volume and the acreage required to produce it? At the same time, the concerns and costs of law enforcement agencies could be addressed.
Download complete report from this link here (107 KB .PDF [1])