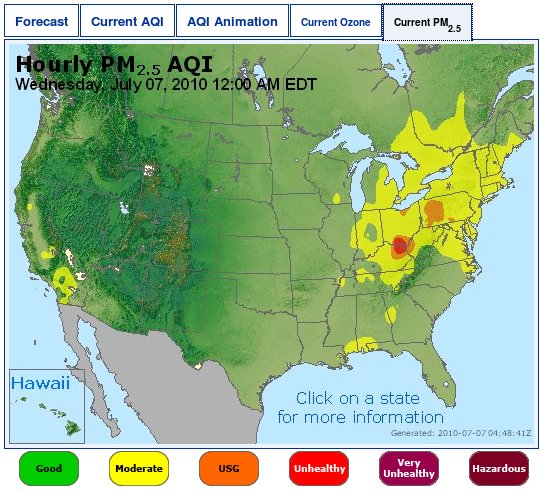 By all standards, the environment in Northeast Ohio this week is harmful for all citizens. In addition to daytime temperatures in the 90s, there are high levels of pollution in the air - the region has been under air pollution advisory conditions since July 3 and the crisis is far from over. While our temperatures are not as high as some parts of the Eastern United States, the pollution is worse in few places in the country... only conditions in southern Ohio and parts of Pennsylvania, West Virginia, and Kentucky are as poor or worse right now. And much of our regional pollution monitoring equipment is broken right now, so our conditions may be far worse than reported.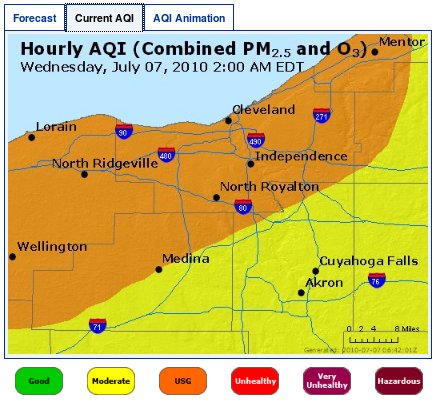 At the very best, here is what the EPA forecasts for our environment on Wednesday, July 7, 2010... Unhealthy For Sensitive Groups, like it seems to be near Cleveland most days, these days.
Wonder why? Perhaps our Deepwater Disaster called Mittal?




Forecast for Cleveland-Akron-Lorain, OH Tomorrow's Forecast
Wednesday, Jul 7:
Unhealthy for Sensitive Groups
Particle Pollution (2.5 microns)

For additional information concerning the air quality forecast, contact one of the following agencies, or visit

http://airohio.epa.state.ohs

.

For Cleveland: Bureau of Eng. Services, Dept. of Public Health & Welfare, 216-441-4879,
For Akron: Akron Regional Air Quality Agency, 330-375-2480,
For Lorain: Ohio EPA, Northeast District Office, Division of Air Pollution Control, 800-686-6330.
Do not reply directly to this email. If you want more information on the air quality forecast, or other aspects of the local air quality program, please contact your local air quality agency using the information above. For more information on the U.S. EPA's AIRNow Program, visit
http://www.airnow.gov
.

Northeast Ohio
All Streets
All Cities
,
OH
44112
United States