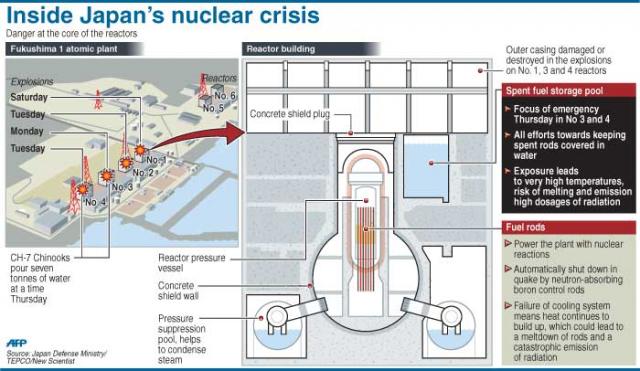 Japan is considering the sale of all food products from around the site of a nuclear power plant damaged by a tsunami a week ago, according to the UN nuclear watchdog - ...The International Atomic Energy Agency (IAEA) said there was a short-term risk to health after radioactive iodine was found in foods from Fukushima prefecture, where the power station is located....
they JUST NOW decided that this was a good idea? Whew, Found it water too.
http://www.channelnewsasia.com/stories/afp_asiapacific/view/1117558/1/.html [2]

1321: Trace amounts of radioactive iodine have also been detected in tap water in Tokyo and five other areas, according to the Associated Press. The Japanese government says the amounts did not exceed government safety limits - but usual tests show no iodine.
http://news.sky.com/skynews/Home/World-News/Video-Japan-Earthquake-Tsunami-Reactor-Zone-Food-Sales-Stopped-Milk-And-Spinach-Contaminated/Article/201103315955471?lpos=World_News_Top_Stories_Header_3&lid=ARTICLE_15955471_Video%2C_Japan%2C_Earthquake%2C_Tsunami%3A_Reactor_Zone_Food_Sales_Stopped%3B_Milk_And_Spinach_Contaminated [3] see video off the above site
you be the judge video here http://www.youtube.com/watch?v=UPxT9nLtX_g&feature=player_embedded [4]
Lots of unknown, life and death situations, Betty
Links:
[1] http://realneo.us/content/japansitejpg
[2] http://www.channelnewsasia.com/stories/afp_asiapacific/view/1117558/1/.html
[3] http://news.sky.com/skynews/Home/World-News/Video-Japan-Earthquake-Tsunami-Reactor-Zone-Food-Sales-Stopped-Milk-And-Spinach-Contaminated/Article/201103315955471?lpos=World_News_Top_Stories_Header_3&lid=ARTICLE_15955471_Video%2C_Japan%2C_Earthquake%2C_Tsunami%3A_Reactor_Zone_Food_Sales_Stopped%3B_Milk_And_Spinach_Contaminated
[4] http://www.youtube.com/watch?v=UPxT9nLtX_g&feature=player_embedded