Cuyahoga County Hypocrite Con Artist GUS FRANGOS - President of the Cuyahoga County Land Bank
The next land bank meeting is scheduled for June 28, 2013:
Next board meeting:

June 28, 2013; 10:00 A.M.
Notice is hereby given that the Board of Directors of the Cuyahoga County Land Reutilization Corporation will hold a regular board meeting at the location, date and time listed below. This meeting is open to the public pursuant to Section 121.22 of the Ohio Revised Code.
LOCATION:

Lakeside Place

323 W. Lakeside Ave.

Room 400

Cleveland, OH 44113



DATE/TIME:

June 28, 2013; 10:00 A.M.
There should be one single discussion at this meeting, and that is the IMMEDIATE REMOVAL of Gus Frangos as President of the County Land Bank.
Which incompetent official - elected or otherwise - who has the ability to remove the con artist will finally step up to the plate and show Gus Frangos the door- and kick him in the ass on the way out?
I have corresponded with all of the officials and have provided evidence for well over one year. Not one single official that has the ability to address this issue has done so. Most ignore my correspondence and don't even send a simple reply. FBI, HUD, President Obama, County Investigator, County officials, city officials, Mayor Jackson, Plain Dealer, Channel 3, Channel 5, Channel 8, Channel 19, Scene Magazine, etc.... have all been notified.
***If Gus Frangos is not immediately removed from his six figure salary position, I will start naming specific officials that I have notified, along with dates and my correspondence/ evidence that I provided to each person. Let the world see what kind of idiots we have in Cuyahoga County. *****
A deep dark secret being well hidden.
Gus Frangos has committed TWO COUNTS of mortgage fraud http://realneo.us/content/cuyahoga-county-land-bank-president-gus-frangos-con-artist-forges-documents-obtain-2nd-mortg [1]
Gus Frangos has destroyed an entire neighborhood with his dumps hidden behind a shelll LLC http://realneo.us/content/gus-frangos-president-cuyahoga-county-land-bank-adds-fuel-foreclosure-crisis-and-destroys-en [2]
Gus Frangos six figure salary is paid by the collection of delinquent property taxes. This shell LLC was recently foreclosed upon for delinquent property taxes and another will soon follow in its path http://realneo.us/content/cuyahoga-county-land-bank-president-gus-frangos-worlds-biggest-idiot-land-bank-scam-fraud-wa [3]
Gus Frangos is a liar http://realneo.us/content/cuyahoga-county-land-bank-president-gus-frangos-liar-liar-panties-fire-attempted-cover-progr [4]
Gus Frangos is paid to reduce blight, yet he has contributed this http://realneo.us/content/gus-frangos-president-cuyahoga-county-land-bank-and-his-shell-llc-properties-new-photos [5]
It is all a scam http://realneo.us/content/cuyahoga-county-land-bank-continues-give-county-taxpayer-property-flippers [6]
Wake up ignorant people http://realneo.us/content/cuyahoga-county-land-bank-creators-dabble-ten-million-dollar-property-jim-rokakis-gus-frango [7]
Gus Frangos is the biggest CON ARTIST in town. The FBI forgot one http://realneo.us/content/gus-frangos-president-cuyahoga-county-land-bank-con-artist-jesus [8]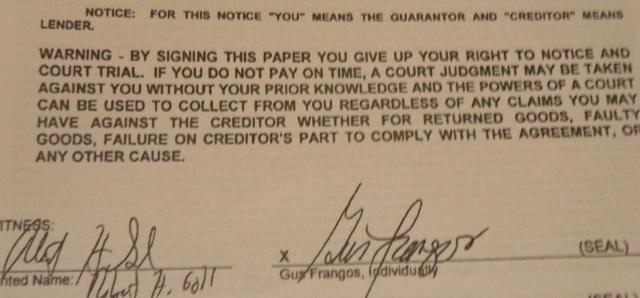 $$$$$$ FOR FREE OR NEARLY FREE PROPERTY FROM THE CUYAHOGA COUNTY LAND BANK apply here $$$$$$$ http://cuyahogalandbank.org/propertiesByImage.php?where=fs [9]
Or contact:
JASON BROOKS
17201 JUDSON DRIVE
CLEVELAND,OH 44128 http://realneo.us/content/cuyahoga-county-land-bank-continues-give-county-taxpayer-property-flippers [6]
*** My blogs expressing my freedom of speech rights - especially on matters of public concern - are my opinion and not the opinion of my friends, family or employer ***