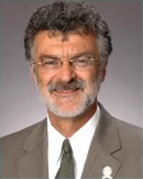 Mayor Frank Jackson was sworn in as Cleveland's 56th mayor by Congresswoman Stephanie Tubbs Jones on January 2. It was a full house at East Technical High School with most of the city council members present to honor their former president. The new mayor received standing ovations as he entered the room, took the oath of office and after he finished his inspiring inaugural address.
The theme of Mayor Jackson's address elaborated on the his campaign promise- "We are One city. We are One people, with One mission- to make Cleveland great again!" The mayor went on to say "this is not about me this is about the future of Cleveland. I will not always be mayor, but when I leave, Cleveland will be better off."
He focused on the the importance of education and that his administration will work diligently with the board of eduction because he believes that "everything begins with eduction." He said, "the children will learn from what we do, not what we say." He reassured the audience that Cleveland will settle for nothing but the best. The best in education, safety, jobs, and quality of life.
His vision is to have Cleveland become a city of choice. That people from around the country will come here to live because of our great schools, economy and many assets. He wants to work with the region's mayors and managers to build a strong regional economy and plans to appoint a cabinet position for that purpose.
The new mayor made it clear that we always have to keep in mind that the measure of a great city is how we provide and treat the least of us and how we ensure that the least of us are better off. He challenged the people of this community by saying "I need your help, the gates of the city are open and you need to help make this city great again." After the inauguration ceremony, Mayor Jackson received several hundred of his constituents and greeted them individually.
Celebrate Cleveland! at the Inaugural Party
Join Mayor Jackson in celebrating Cleveland's diversity at the Inaugural Party.
This event is free and open to the public.
Saturday, January 7, 2006 – 6:00 pm until Midnight
CSU Wolstein Center – 2000 Prospect Avenue