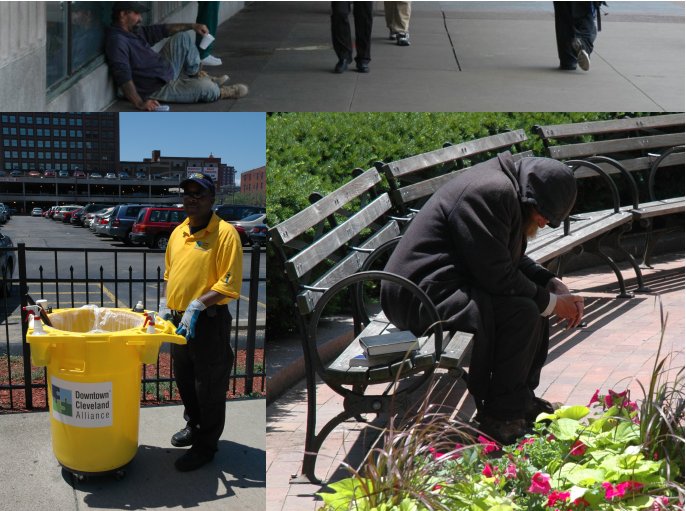 People's treatment of other people suffering in our society is a great measure of our society and the people who lead and follow in it. When a man, woman or child is clearly without shelter, suffering, hungry, depressed, or perhaps mentally disturbed, how do we as individuals and society treat them? When we think of progress in our community, is it to solve the problems of the most troubled, or the most privileged? In Northeast Ohio, it is safe to say, our leadership and the society they lead is most focused on the needs of the privileged - the most advantaged - in general disregard and often open contempt for those with the least privilege, never recognizing their success is the core to our region's success. Regarding the homeless, so often here we hear, "don't give that bum a dime - he'll just buy drugs" - "that guy begs for a living - he probably has a nice apartment somewhere" - "they need to get all these bums out of Public Square - it's bad for business", and the like. These are the sick thoughts of the hopeless and the truly unwashed privileged who are void of vision into the human condition much less the value of a man, and that is the condition of our sick society in Northeast Ohio, at the very top, which is pathetic.
When I read some privileged writers and editors in the Plain Dealer puff about the value of land-grabs for and around Public Square, the symbolic and real home of NEO homelessness, without any real consideration for the residents' very human conditions, much less their futures, I can only say such evil forces for privilege are to blame for our pathetic NEO economy - for the lack of successful arts and culture and entrepreneurship and innovation here - as all those things require sophisticated appreciation for the diversity of man, and the human condition, and compassion lacking in this inhuman sprawl of mediocrity.
Being an entrepreneur, I've spent many years literally homeless - largely sleeping in my offices, or my car on the road, wherever I may need to be, from the Flats to San Francisco... the life of an entrepreneur is always potentially one of homelessness - you often must move your company to find partners, or complete deals, or access resources - as your home and economic conditions are always uncertain and depend on where your work takes you. As Tim Williams, an owner of the entrepreneurial Hot Sauce Williams company recently told me, his life has largely been hard on his health and his family, and the sad look on his weathered face when he said he lost ten years of his life showed he knew that from deep in his heart. I've lost ten years as well, and I'm just in my 40s. But, some of us are entrepreneurs, and we make the art and change the world for the better, and we are also the homeless, and we live life together on a different Earth than those who live for privilege, with their contempt.
Having seen the dark side of humanity here, and around the country, and in over 50 other countries, I understand the human condition and I always care for the other homeless here - give them what I can, from change to a smoke - and I've learned much from them in return. The one I got to know best was a Nigerian mathematician who had come here to study but had lost his funding and then his visa status and was trapped in America, unable to work or afford to return home. I was sleeping in my office on the second floor of an old Superior Viaduct building at the time and I'd let him in to use the restroom to wash up, and I'd feed him dinner, and we were friends. When the building owner found out I was letting him into the vestibule to sleep at night - a safe, lockable place for a change for my Nigerian friend - the owner started making sure the man was locked out - and he locked my out not much later - and I never saw my Nigerian friend again... perhaps he's still wandering around the Flats - perhaps he got back to Nigeria - perhaps he was beaten to death. I moved to a friend's couch for a few months and then left for California and I wish he could have joined me. There, life is good for the entrepreneurial and the homes, as more people there have good hearts and souls.
I share all this because I despise those who insult the homeless here without seeking immediate help and life-long solutions for those so misunderstood. In San Francisco, just as society and the people there work hard en mass to make entrepreneurs successful, they work hard to make the homeless successful. The mayor of San Francisco, young Gavin Newsome, has made a commitment to end homelessness in SFCA by 2014, and his "Care not Cash" program shows important progress [1], has brought a higher social consciousness to the challenge and "which has housed 690 people since last spring; the city's model Direct Access to Housing program, which put 190 homeless people into residences with intensive counseling; and vigorous outreach efforts by city social workers, who are joined one day a month by hundreds of volunteers in the mayor's Project Homeless Connect program." 100s of other cities are looking to this approach for solutions in their communities, although I've seen no indication we look to such initiative. Another SFCA-based first in confronting the homeless challenge is a church offering "Sacred Sleep" [2]. "More than 100 homeless wanderers find slumbering solace every day at St. Boniface, a pink-and-yellow-walled fortress of spirituality amid the hardscrabble street scene on Golden Gate Avenue near Leavenworth Street. It is believed to be the only place in America where this happens. Many churches let themselves be used as nighttime shelters, but no other lets the homeless sleep in its pews while its daytime functions go on all around, according to both the National Coalition on Homelessness and national Catholic officials." Such a program could be provided in the hallowed, hollow Ol' Stone Church that seems to always sit idle, like the homeless locked right outside, on Public Square.
As NEO now plans to upgrade the life of a few of its privileged by WalMarting, condoing, casinoing and generally 'burbifying our core downtown neighborhoods, it seems the plan for the homeless is for the Downtown Business Alliance to sweep the bodies away in their big yellow trash-cans. Clearly, that offers no solutions, other than to waste jailers' time. Now, as we assess what is wrong with the downtown core and our economy, and our plans for the future, we must plan for a community that serves all the homeless in unique ways, like is being developed in SFCA. As we spend $100s millions on developing technology and bioscience clusters in mid-town, and $ billions on development downtown and at University Circle, we need to spend $ millions on "residences with intensive counseling; and vigorous outreach efforts by city social workers, who are joined one day a month by hundreds of volunteers in the mayor's Project Homeless Connect program", and the faith-based community must provide "Sacred Sleep" and more - we all can do more. To see how much more, consider that a program in SFCA's Tenderloin District [3] has provided 100s of low cost housing units for "homeless children and their families", with design and architecture that blows away anything Wolstein could image. I would much rather see that 1,000 small, well designed units of ultra-affordable housing for the struggling and disadvantaged masses be built down there by our great river and the Rapid Transit, and in the parking lots around Public Square, than allow 300 luxury condos and big box sprawl there for the privileged few.
Knowing that among those homeless masses are mathematicians from Nigeria, and Iraq War vets, great cooks and quality chemists, I see great competitive advantage in Cleveland becoming the best place in the world for people who are lost or off the grid to find their way forward in life with hope and satisfaction - and much help from every imaginable direction. Some are entrepreneurs - some are hermits - all are human and worthy of love and compassion. If we can provide that to the homeless, we will be a desirable place for all people, of all walks of life, including entrepreneurs like me, who will love being here surrounded by comfort and joy. To embrace how far we have to go, visit a very interesting write-up on the homeless experience on a blog called "Creative Ink", by Wendy Hoke [4], which ends with 11 recommendations from the Director of the North East Ohio Coalition for the Homeless (NEOCH) to Mayor Frank Jackson. Add to these recommendations the ideas pulled from SFCA above, and more innovative best practices from anywhere on Earth... all funded with bonds from the Port Authority... and the region will be prepared to do good for a change:
NEOCH's Brian Davis has sent a list of 11 recommendations to Cleveland Mayor Frank Jackson, as he's done to other mayors, in an attempt to alleviate the problems in shelters. Here's a rough outline of his points. See the site [5] for more details:
1. We need someone who will take the lead to solve this problem locally.
2. Cleveland needs a 24 hour drop in center downtown in which homeless people could get a warm meal, a place out of the cold or heat, and a place for the hundreds of churches to coordinate their help.
3. We need to pass local legislation to set standards for the shelters.
4. Shelters need to focus more attention on outcomes.
5. There should be no discharges from one shelter to another, and there should be incentives for moving people with multiple barriers into housing.
6. We need help in pushing the state to provide counseling to all homeless people in order to work through the trauma of homelessness or abuse or war in their background.
7. We hope that you will push the State to recognize that it is raining in Cleveland, and we need those funds.
8. We need to follow the lead of Franklin and Montgomery County and create a County-wide affordable housing trust fund.
9. Help us forgive and forget (to accommodate those leaving judicial system).
10. Can we work on planning for problems within our system before they become crises?
11. Please let the panhandling ordinance die a quiet death.