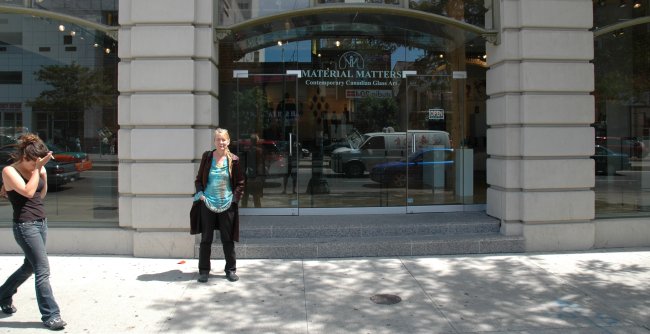 Lisa Wuohela in front of Material Matters, the premier gallery of Canadian glass art in the world.
The August 14, 2006 REALNEO header (included below) has great meaning, as it introduces a new initiative of 7GEN, LLC, the organization formed by Phillip Williams, Evelyn Kiefer and myself following the attempted theft of REALinks, LLC, property by my former partner, Peter Holmes. This header is of a great NEO art collection, of my parents, Doctors Ann and Norman Roulet, which Phillip, Evelyn and I are documenting on-line as a first service of May Show for the NEO community... in the future, my parents and other NEO art collectors and art dealers and artists may show the world the art they create, sell, collect and exhibit here in Northeast Ohio. The May Show portal being developed by 7GEN, LLC, will be the only interface in NEO to so well document art and make it available to the public, far eclipsing capabilities of even our beloved Cleveland Museum of Art. But that is not the most exciting development for 7GEN I have to share with NEO today, as we are basing future operations at the location shown above, on Spadina Avenue in Toronto, Canada. Read a brief introduction of what, how and why 7GEN will operate in Canada below [1].

Welcome to the home of Material Matters, and now 7GEN Canada, at 215 Spadina Avenue, Toronto, Canada

7GEN Canada will be a Canadian company entirely separate from 7GEN, LLC, of the USA. 7GEN Canada was created to provide Canadian and global interests advanced social computing technologies, demonstrated by REALNEO and coming soon with May Show. But, there are some very unique aspects to our Canada operations that will set 7GEN Canada very much apart from all other technology service companies in the world, as we shall work with the indigenous people of the First Nations, and our technology shall reside on First Nations property, making our services uniquely private, secure and independent of any other government regulation and interference. We may accomplish this because our Canadian partner in 7GEN Canada is the shaman Waterdog, Dan Whetung, who I've known for several years and is uniquely positioned to structure innovative relations within Canada and his native First Nations community. As such, one of the primary missions of 7GEN Canada is to support the social computing and information technology opportunities of the 100,000s of First Nations people.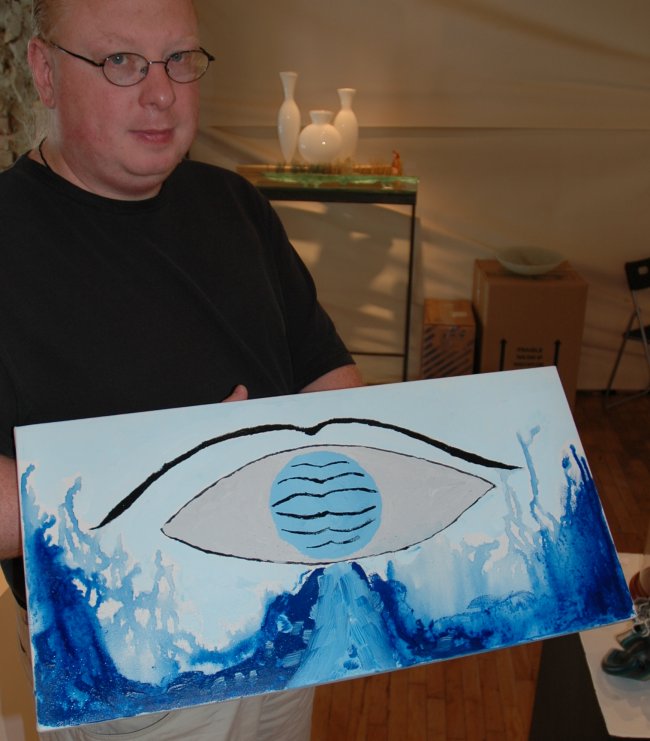 Shaman painting by Waterdog, held by 7GEN Co-founder Phillip Williams
Dan does not allow himself to be photographed, but you may know him well through his vision painting above, if you have good vision. I've been planning to work with Dan and the First Nations for quite some time and the recent corruption of REALinks, LLC, by Peter Holmes and his friends made clear my vision of how the remaining REALinks team must move forward, being as 7GEN and largely focused and based outside of NEO. So, on a recent trip to Toronto, Phillip and I perfected our vision for not only where 7GEN should base operations, in Toronto, Canada, but also where social computing will be based for the future, being on First Nations property and leveraging competitive intellectual, legal and technology advantages never seen in this world before. In every way, this vision has only been possible through working with our shaman partner. We of 7GEN, and all of NEO, are very fortunate to have Dan in our partnership.