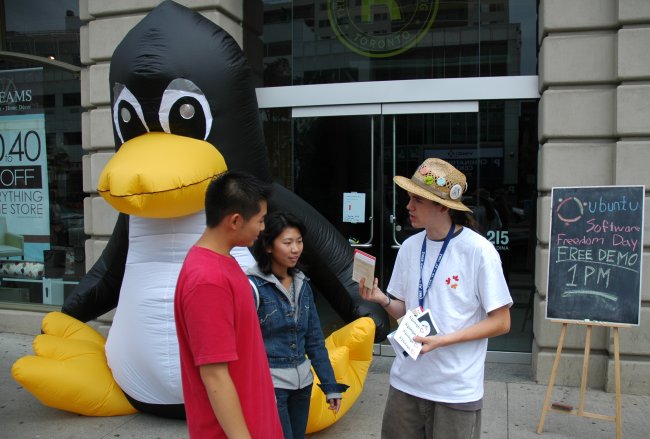 By lucky coincidence, I was in Toronto on international Software Freedom Day [1] and so had easy access to Ubuntu today, right when I needed it, and lots of Ubuntu and FOSS experts, and got to meet the cool people in Toronto who run the Toronto Ubuntu and Linux User Groups, and the Linux Caffe [2], and the awesome Center for Social Innovation [3]... this city rocks in every way.
All the people I've met in the FOSS community here are young, hip and super-friendly... "if you have any problems, come on by the Linux Caffe (which I did tonight)... go to our user group forums... come in for the demo..." The director of the Linux User Group said she had just heard about Software Freedom Day three days in advance and still put together a huge success, with Ubuntu demonstrations, and Ubuntu enthusiasts out in front of the building literally chasing people down to ask "have you heard about Linux... do you want to run your computer with better software than Microsoft, for free?" and lots of people said they ran Linux, and lots of people took Ubuntu disks. It was downright inspirational.
NEO needs to develop such vocal FOSS enthusiasts and they need to hold more public demonstrations and build a "club house" like the Linux Caffe!
Links:
[1] http://softwarefreedomday.org/
[2] http://www.linuxcaffe.ca/
[3] http://www.socialinnovation.ca/
[4] http://realneo.us/system/files/Ubuntu+SFD+Front.JPG
[5] http://realneo.us/system/files/Ubuntu+Demo.JPG
[6] http://realneo.us/blog/norm-roulet/tomorrow-is-software-freedom-day-heres-how-this-is-celebrated-in-toronto-what-about-cleveland
[7] http://realneo.us/blog/phillip-williams/ubuntu-linux-to-be-king-for-a-day