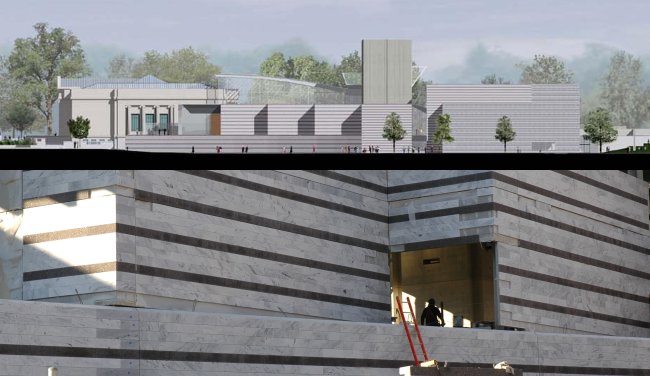 I was at the Cleveland Institute of Art today to review the subtle "Home House Show [1]" of green affordable housing and noticed across the street the extravagant, stony Cleveland Museum of Art expansion is really taking shape. While not scheduled to open until Summer 2008, contractors are already adding the skin to the East Wing and it is now possible to visualize what the finished product will look like. Most visually dominant, the surface of the addition is covered in marble that is similar to the light gray of the original 1916 Beaux-Arts building, transitioned with horizontal thin dark gray lines in a pattern lifted from the more recent 1971 Breuer addition, and the new structure is overall very much in that modern, brutal style. Still to come is all the glass, which should give the structure greater lightness. I now look forward to the end result.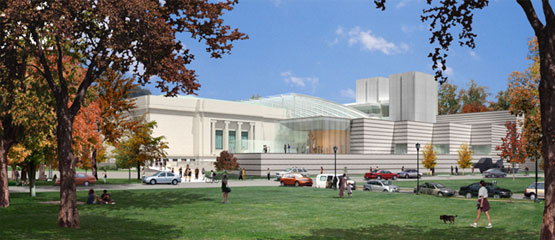 Certain is, this is a blue chip project of great craftsmanship and expense. Looking at the renderings on the CMA site [2], it is hard to visualize the finished product, but looking at the construction in progress I can feel the finish, which is very elegant. I see where there will be openings for large windows looking out over University Circle - it will be an enhanced experience to be in the museum looking out. Whether that adds to the museum-going experience, or whether the exterior treatments are worth the expense, I can't tell. Whether this overall is a good design... a good $ quarter-billion vision... I can't tell.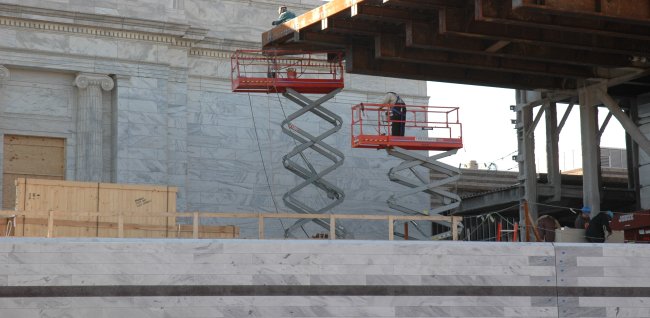 But, I can tell this is an exciting building project for the designers, putting lots of steelworkers and builders to work on worthwhile construction, and the result will be an expansion of a museum I always treasured, already back in business with a world-class exhibition, Barcelona [3], and poised to be more valuable, enjoyable and eternal, and that is all quite good. I also see the renewed energy this is injecting into University Circle, and that is good. Will that lead to renewed commitment to art and culture across the region is the really big question. Will the new museum attract more people from the suburbs to art, and so to the Orchestra, and so to the Botanical Gardens... will this raise the tide and so all ships? Consider that, when you go to the CMA for Barcelona, or to CIA for the anti-Viñoly "Home House Show"... take a walk around the CMA and start appreciating this rising tide.