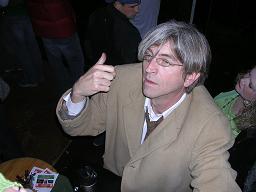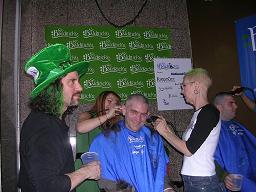 You can't hang out at A.J. Rocco's Cafe [1] before St. Patrick's Day without feeling an incling to shave your head. I stopped by, today. I'm shaving my head tomorrow [2].
Each St. Patrick's Day, A.J. Rocco's is a head-shaving circus... hosting the annual St. Baldrick's event... the world's largest volunteer-driven fundraising event for childhood cancer research. A.J. Rocco's is consistently one of their top fundraising locations in the nation (featured in today's header, with owner Brendan Walton and friend prepping for tomorrow's big event - already shaved for publicity).

I participated in 2006 [3] - the first time I ever had my hair short, much less shaved - and it was actually fun... and a very strange feeling, for weeks... Mayor Brewer said I looked like a skinhead... my wife was none-to-pleased, and is not thrilled again.
To me, it's a chance to do a simple, painless thing for a good cause, surrounded by some of the best, most authentic people you may know, in the best bar/coffee house/cafe in Cleveland, in the real heart of one of Cleveland's most special days... and if you have seen me lately you surely know I need a haircut!!!
If you want to make a donation, go here [2]... to be a Shavee, and join me for the experience, and perhaps amp up more fundraising support, meet at A.J. Rocco's around 1 PM - you can register on-line [4] or in person on St. Patrick's Day - fundraising continues on-line for a few weeks after... TEAM REALNEO returns.
You'll surely see photos....