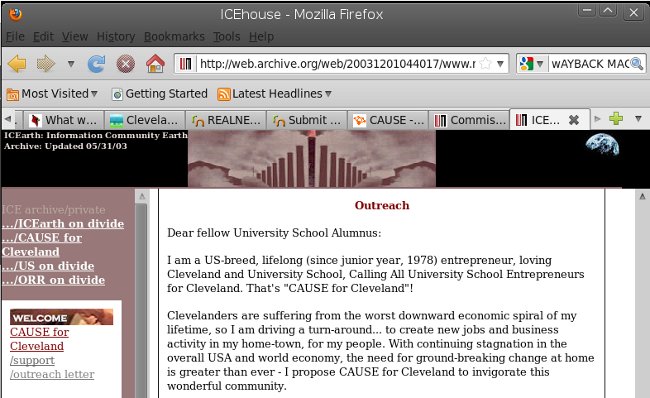 At the end of the last Millennium, having created InT+IME (The Information, Technology and Infrastructure Management Exchange), and having led the leadership of scores of the world's leading global corporations through comparative enterprise benchmarking and best practice analysis of their information systems (and lots of related systems), for many years, I recognized an opportunity for Northeast Ohioans to transform ourselves and move our region to a position of global importance by doing best here what my clients did best worldwide... optimize Information Technology, focusing on universal access and open source virtual community development.
At the same time, the poor information technology climate in Northeast Ohio had forced me to leave my family here and relocate my ICEarth enterprise to Northern California. Once safely in an incubator there, I turned around and asked Northeast Ohio's leaders why I must do my work for Ohio from California?
To help change everything, I reached out virtually to ALL of my Northeast Ohio stakeholder community, from Aggie Gund and family (to post)... to ALL the readers of the Cleveland Plain Dealer [1]... to ALL the alumni of my High School, University School [2] (with email addresses in our online directory in 2003... over 2,000 as I recall)... to 39 children studying at the last-resort Charles Orr Cleveland Public School [3]... seeking data and insight on real NEO community needs and interests for information systems. This pathway, partially documented on-line on the Wayback Machine [4], directly resulted in realNEO.... and me relocating ICEarth back to NEO... and meeting my wife... and us growing our family here... lots of good.
Most influential on the development of realNEO.US was certainly my "CAUSE for Cleveland: Calling All University School Entrepreneurs for Cleveland" email outreach to all alumni in my prep-school's private on-line directory - "THAT" had never been done before (and sure pissed off the powers-that-be there) - and has surely never been done since... and was certainly a wakeup call and demonstration of the unique power of information technology transformation for MANY of the most powerful leaders of this region (and the world) EVER!
Below are some of the steps we took along the way, to get where we are today... from WAYBACK around the turn of the 21st Century, and the start of the ICEarth age - more source documentation to follow...
First, my outreach to the 1,000s of alumni in the University School alumni database [5] - I believe it was in late 2002 - followed by my related editorial in the Cleveland Plain Dealer, followed by the responses to my CAUSE outreach from scores of the world's most powerful people... names withheld. The first responder listed was very influential in helping me start realNEO... and we all learned we each must write our own destiny for ourselves, to save this region...
Dear fellow University School Alumnus:

I am a US-breed, lifelong (since junior year, 1978) entrepreneur, loving Cleveland and University School, Calling All University School Entrepreneurs for Cleveland. That's "CAUSE for Cleveland" [6]!
Clevelanders are suffering from the worst downward economic spiral of my lifetime, so I am driving a turn-around... to create new jobs and business activity in my home-town, for my people. With continuing stagnation in the overall USA and world economy, the need for ground-breaking change at home is greater than ever - I propose CAUSE for Cleveland to invigorate this wonderful community.
For many years, I've been active in the local business community, spending most of my working life creating new economy at home. Yet, I collocate my current enterprise, in Northeast Ohio and Northern California, because many entrepreneurs' needs are not effectively supported in the current Cleveland-region economic environment.
I am not alone realizing huge problems at home - the Plain Dealer terms us in "Quiet Crisis", as Crains' editor today wrote "Cleveland's civic model has reached the edge of the cliff". So, I'm proactively reaching world-wide for solutions. Rather than abandon our roots, I choose to nurture new fields of opportunity for all Clevelanders.
Entrepreneurship here should not be so difficult - even in these trying times - as our community has sufficient wealth and resources to nurture prosperity. For positive change, entrepreneurs must become more proactive leaders, unify objectives, and champion change throughout our society. For such purpose, I reach out to all US alumni to lead economic development on America's North Coast - to bring together all our entrepreneurs and their champions, from near and far, in a strategic initiative to save our community.
I propose an "entreprendre" network, with initiative to proactively create 1,000s of jobs and $100,000,000s in annual business activity for Clevelanders - bettering what has in short time been lost. My vision sees entrepreneurs, investors, mentors, vendors, and professionals growing our US roots into a paradisiacal garden of dynamic new enterprises, products and services, born, raised and grown in Cleveland.
We need to develop incubators, "friends and family", angel and venture funds, and leadership nurturing individual and collective genius - drawing from within and beyond our traditional business environment, collaborating in virtual concert for a shared objective of collective economic salvation - challenging conventional thinking and practice, for new paradigms of prosperity. We must proactively invest in one global-objective - saving Cleveland. Approached thus, success is well within our means and reach, for common good.
I thus pledge much of my time and personal resources, and a 1% share of the value of my world-optimizing initiative, ICEarth (Information Community Earth) for a shared objective to revitalize the Cleveland economy, and our society. As CAUSE for Cleveland creates an entrepreneurship nurturing culture, I shall further expand my business, invest, buy and hire to create opportunities for Clevelanders, before all others. I do this for my home town, where I have friends and family, for their futures.
Please email me to share your interests. One man does not an army make, but together we may win this war against regional poverty and economic disintegration. Whether you are an entrepreneur, support entrepreneurship, or seek better personal opportunity here and there through, please get in touch and I'll connect the CAUSE for Cleveland network.
For these objectives, I'm communicating with US leadership, and driving similar initiatives with the presidents of the Cleveland Institute of Art and Case Western Reserve University, where I have other alumnus-like interests, and which I consider like critical to the success of our region.
Thank you for your time and interest. I extend my best wishes to you, and look forward to your thoughts.
Best regards,
Norman Roulet - US class of 1979
CEO & Managing Partner
ICEarth, LLC
Email: norm@icearth
Phone: 1-925-866-XXXX
URL: http://icearth
ICEarth, USA - North Coast
17400 Shaker Boulevard
Shaker Heights, Ohio 44120
ICEarth, USA - West Coast
Camino Ramon
San Ramon, California
Postscripts:
In 2002, I reached out to alumni in research on US community perceptions on the digital divide and the need to revolutionize Cleveland's economy through universal access and optimal virtual community. The results of this and related analyses were insightful, valuable, and may be reviewed at http://www.roulets.net/USdivide/USdivideInsight.html [7]
The roots of my drive to revolutionize the Cleveland economy were published as an editorial, in the Cleveland Plain Dealer (they editied it, but this is close enough), in November, 2001, and related insight is published at http://roulets.net/UAVC/UAVCCleveland.html [8]
The editorial is included below:
--------------------------------
Clevelanders must get connected

C 2001 The Plain Dealer.

11/05/01
Norm Roulet

Joe Frolik's Oct. 21 column, "The high-tech route to City Hall," finally starts focusing attention on the Cleveland area's only hope for economic and social renewal: information technology.

Independent studies prove Cleveland is deficient in its use of information technology in government and in supporting the needs and interests of citizens. As a result, the community and the local economy have suffered.

Cleveland must move to the forefront of the information technology revolution by doing two things quickly and effectively:

Achieve universal access for our people.

Develop an optimal virtual community.

Every citizen in the Cleveland area should have regular, convenient access to a computer, e-mail and the Internet - ideally at home. For us to accept that any of our citizens are disconnected is to accept that they are stranded across a divide and not part of a hopeful new economy.

Universal access can be achieved. A very high percentage of area homes are online, and many more households may be willing to pay for a computer and access, if both are made affordable and convenient. Households that cannot afford computers and access must be subsidized and sponsored so that no citizen is allowed to fall off-line. Local, state and federal governments and local and global businesses should be thrilled to help get Greater Clevelander connected - and create a model for the new world in the process.

If Clevelanders act in concert - like a large corporation - we may negotiate better deals for computers, access, applications and technical support than possible acting as individual customers. If we notify Dell, HP and Gateway that Clevelanders need 100,000 cheap, preconfigured computers at the lowest possible price, they will deliver and be very pleased to help support the world's first significant, universally connected city. Universal access can happen using existing phone lines. People don't need fiber-optics or cable to benefit from the Internet.

To optimize our virtual community, Cleveland must learn from the accomplishments of great cities like Seattle, Austin, Chicago, Boston and New York. Visit the northwest, at www.ci.seattle.wa.us [9], and imagine the possibilities for us.

Millions of people worldwide and around Cleveland already are developing cheap, effective application service provider capabilities (which allow users to do whatever they want to do on the Internet and which underpin a useful virtual community). These great, open solutions just need to be configured for Clevelanders' purposes.

Cleveland must re-engineer business and governance processes so they are Internet-optimized (by that I mean perfectly suited to users' needs). For example, if Clevelanders wanted them, they could have ASP capabilities for voting, paying parking tickets, searching and registering for adult learning services, complaining about code violations or drug activity, finding gas lines before digging, checking on a fifth grader's school assignments and grades.

When Cleveland offers Clevelanders the online resources and services Seattle offers its citizens and business community, Cleveland will become a much more livable city.

The Cleveland-area virtual community should be a place for all citizens to learn. Our children should find access to free, online learning resources - the best the world has to offer - organized by age and skill level. They should find a place to communicate with their teachers and learning peers, extending healthy learning relationships and environments to their homes.

Adults should turn online to help their children learn, supporting their healthy virtual and physical learning environments, and to access adult learning resources. A city with computer-literate, computer-educated, computer-trained citizens will create, attract and retain more high-tech enterprise and jobs.

It's up to us. Cleveland can develop a world-class virtual community and a new economy. We have to do things right and stick with our goals. There are no quick fixes to our problems. We need to get better at the things that matter, like sharing, learning, collaborating and information technology.

Current U.S. and global economic developments won't spark and fuel our local economy. Quite the opposite. Cleveland must resolve this economic and social crisis alone. I hope our next mayor will be the right person, at the right place, at this right time, to help lead us on a better course for the future. But each leader throughout the community must now lead better, and each Clevelander must personally leverage all the best tools, insights and opportunities made available to succeed.
Responses
CAUSE for Cleveland


Scores of supportive responses to CAUSE for Cleveland




Dear Norman,

In response to CAUSE, I was going to reply, at length, though my brother is xxxxxxx and my two sons (ages 7 & 10) are enrolled at xxxxxx. (If these are of sufficient weight to prejudice you against my ideas, hit the reply button, please advise and stop reading.

Seriously though, your perspectives remarkably parallel to my own. I'm focused on three projects that involve process and content, as related to promoting a regional business culture of innovation and entrepreneurship. The necessity for doing so is as you describe in your e-mail. Yesterday, I returned from Berlin, were I participated in a conference that had some remarkable convergences to what you observed in your CAUSE memo. Most significantly, there are some measures that can be taken on the process side, that, when implemented, will impact content, as the two become explicably linked together. I'm working on getting Cleveland Foundation funding for implementing a vision of culture change that will address such ideas, ones that fundamentally revolve around network theory, and Harvard Professor Michael Porter's ideas pertaining to economy. As an aside, Gov. Taft's vision in the 3rd Frontier misses the point, and one such opportunity is developing the concepts and content for replying to his vision's shortcomings and selling the ideas to him. Norman, my shorthand my not make any sense to you, and if that is the case I need to hear so that I can change the vocabulary. I look forward to your reply. xxxxx xxxxxx

Dear Mr. Roulet,

My brother, US class of 2000, forwarded your email to me. We are intrigued by your thoughts and agree with your concerns. I and many of my classmates, having graduated from college in 2001, decided not to return to Cleveland after graduating. Now, three years out of school I am looking for another job and my contacts are leading me back to Cleveland. I'm worried about taking a job there because of the faltering economy and the fact that so many business have left Northern Ohio this year. I'd love to get involved in your CAUSE. What do you have in mind...

Sincerely,
xxxx xxxxx

Norm,

I would be delighted to offer assistance, but from 4000 miles away, and working for a company with no US interests any practical assistance is difficult to identify.

I know that North East Ohio has suffered in recent years as the heavy manufacturing economy has declined and relocated. We were in Cleveland last year for our summer holidays and I was amazed at how much the downtown area had been renewed, It doesn't look like a down at heel industrial city anymore, so from an outsiders view its not all bad.

Best wishes with your project.

xxxx

US 1980

Hi Norm,

Thanks for the email. I think it's a great idea. An organized US alumni network could become an incredibly vital part of an economic rebirth of Northeastern Ohio. I think I would be exactly the type of person who would benefit from such a group.

I'm a certified brewmaster with 10 years experience in the brewery/restaurant industry. I've been working with a group of people with outstanding restaurant operations backgrounds to try and open our own microbrewery/restaurant. We have the knowledge and background to make this venture successful but haven't known where to go for financial backing.

A group like the one you're talking about would be an excellent place to show other people who we are and what we can do. It would allow us to refine our business plan (we already have created a rough one) and get feedback on how we could make our dream a reality. Please count me in as an interested alumni and let me know what I can do to help you get this organization off the ground.

Sincerely,

xxxxxx xxxxxx '87

Norm,

Thanks for the note. I'm writing from xxxxxxxx, xxxxxxxxxx, where I am doing a project for a defense contractor that makes modular housings units for the US military in Central Asia.

I moved back to Cleveland last year after working in India and Taiwan for two years. My wife and I considered moving elsewhere, but we have family and friends in Cleveland and decided to plant roots here.

Anyway, I'm working for a consulting firm based in Pittsburgh, but am looking into starting a trading company with a colleague who lives in New York.

I'm not a point where I would need to hire anyone, but I'm interested in your CAUSE idea.

Any interest in meeting for lunch? I'll be in Los Angeles for the rest of the year, but will be in town most weekends.

xxxx xxxxxxx '83

Dear Norm - I applaud your energy and desire. I cannot take time tonight to fully share my thoughts, but I'd be happy to have a phone conversation or meet in person with you sometime soon. I am a real estate investor, lender and property manager. Obviously - my fortunes are tied to this town. I was in the class of '77 and still have many good friends from 77 and 76.

When will you be in town?

By the way - please respond to my regular email address - xxxxxxxxxxxxxxxxxxxxxx

Thanks...

xxxxx xxxxx

Norm,

I sincerely appreciate your concern and the actions you are undertaking to revitalize the entrepreneurial scene in Cleveland.

I too share your love for Cleveland. This past June I received my MBA from xxxxxxx (US '91). After about 12 years in Chicago, I have decided to move back to Cleveland and have taken a job with a small, exciting, and quickly growing manufacturing company in Solon. I have every intention of remaining in Cleveland for the long term and my career objective is to purchase, run, and grow a small business in the Cleveland area.

So I am more than a bit interested in CAUSE and its outcome. Please keep me abreast of your activities and let me know how I can get involved.

Sincerely,

xxxxxxx xxxxxxxx

Norm,

Thanks for the call to action. I believe that I emailed you before, as well!

I too am a University School Alumnus, class of 1986. I worked for XXX and XXXX XXXXXX, as well as earning an MBA and JD from xxxxxxxxxxx and xxxx, respectively. I too have spent a significant amount of time in the Bay Area. After working and living in Taipei, Singapore, Amsterdam, and completing projects for clients in some 15+ countries, I returned to Cleveland to co-found xxxxxxxxxx, with xxxxx xxxxx.

xxxxxxxxxx, if successful, has the potential to hire many individuals and substantially grow the Cleveland economy. This outcome, of course, is highly coveted by everyone lending a hand to make xxxxxxxxxxsuccessful.

If you are interested, we could get together for a coffee, beer, or perhaps even lunch to discuss xxxxxxxxxxand your Cause for Cleveland.

In any case, your email is motivating, up-front, and inspiring. How do you differentiate your goals from the plethora of existing causes and organizations working to improve Cleveland (i.e., Say Yes to Cleveland, Cleveland Bridge Builders, Cleveland Tomorrow, the Growth Association, NOACCA, etc., etc.)? And, how do you differentiate this approach from the many private and public organizations seeking to help entrepreneurs in this area?

Stay in touch,

xxxxx xxxxxxx '86

Norm

I agree with you.....I welcome the opportunity to discuss and pursue these ideas further...please email back and we will give this some life

xxxxx xxxxx '64

Norman Roulet:

I have spent the past two years working with Dr. Ron Clark, initially at Ohio Polymer Enterprise Development and most recently with his newly formed Lewis and Clark Ventures LLC on ways to help entrepreneurs in Ohio and the Midwest in general. I agree with much of what you have said in your e-mail and would like a chance to meet you and explore how our goals may be aligned for the benefit of the local region, state and broader area of the rust belt.

I am planning on attending the event announced in the attached forward. If you have not met Ray Leach, I think you will find him to have a similar goal of kick starting economic growth in the NE Ohio region and supportive of efforts to that end. I would be happy to sit down with you after this luncheon and explore how we might work together. Please let me know if this will be convenient for your schedule.

xxxx xxxxxxx, Class of '61



Dear Norm,

I am a University School alumnus from 2000. I am currently in the Entrepreneurship program as a Senior at xxxxx University. I found your letter very interesting. I am currently in search for a job after graduation and am interested in joining an entrepreneurial company in Cleveland. I don't know if you have any possible ideas, considering your interest in people for entrepreneurial ventures, but any feedback would be appreciated. Anyways, I agree that Cleveland needs to be more of an entrepreneurial hotbed. Thanks for your letter,

xxxx xxxxxxxx
Norm,
Willing to help where I can. Although I live in Chicago, I am a Cleveland Native and have worked in the Internet space. Feel free to contact me if you need any assistance. My time is fairly limited right now, but I am more than happy to provide support where I can.
Best,
xxxxxxx xxxxxxxx
NORM----- RIGHT ON!
xxxxx xxxxxxxx
Hello Norm,
My name is xxxxx xxxxxxx and I am a member of the U.S. class of 97. I would love to hear more about your ideas and vision for the future of Cleveland and what we can do to turn things around. I am currently living in NYC working for a marketing firm and I also have a independent production company and a non-profit theatrical program that will begin touring to schools here in the spring with plans to expand our reach with the next 2 to 3 years. Essentially, I am an entrepreneur, my family is still in Cleveland and I plan to move back in about 5 years. I will do anything in my power to help the community I grew up in and plan to raise my children in and love so much. Please let me know as much as possible about your plans and I will put my brain and limit resources to work as best as I can to support and be a part of these efforts.
Sincerely, xxxxx xxxxxxx
Norman,
I agree with your assessment of the local economy, especially for those of us involved in manufacturing. However, your email seemed unclear to me regarding what action we might take individually or collectively. If I can help, or if all of us feeling the economic downturn can help each other, let me know.
Thanks,
xxxx xxxxx
Class of '73
Norm:
I received your email to University School Alumnus. I am a non-grad, class of '69. Actually graduated from Hawken. You have an interesting commitment to a declining situation. Because of the school connection as well as several long time family connections to Cleveland, I would like to see what I might do. I am currently closing my start-up venture after 4 years. Between dealing with the court system and paying attorneys to sort out patent rights and an estate interest, I have thrown in the towel. It is too expensive and there are not funds to continue the struggle.
At any rate this both leaves me with some extra time and searching for the next opportunity. If you have any questions or see some avenue for any assistance that I might offer, please let me know. I have lived in the Cleveland area for the majority of my years. My father ran a business in Cleveland. My grandfather was the football coach at Case in the early 1900s.
Thank you,
xxx xxxx
Norm,
I'm with you!
Are you going to the Phonathon @ U.S. Tonight?
xxxx xxxxxxxx
Norm:
I read with interest your 'vibrant' email. I would be interested in learning more about the specifics of what you have in mind to re-energize the Cleveland economy. My contact information is below.
I am a graduate of XXXXXXXXXX College and XXXXXXX Business School. I have been a consultant (XXXX XXXXX) an operator, an investor and started several businesses. I currently sit on the boards of two private domestic companies and a venture startup in Japan. My interest is in emerging businesses (not startups) and buyouts (and value creation for both).
Regards,
xxx xxxxxxx, '72
Hello Sir,
I am a recent (01) graduate of US and a student at the University of xxxxxxxxxx and your email has intrigued me enough to write you an email. I have a strong interest in technology & information oriented entrepreneurship and I'd be interested in learning more about your initiative. I have a pretty extensive background in internet design and understanding of technology that could help your cause and or for other entrepreneurs. Please keep me updated on the progress of CAUSE.
xxxxxxx xxx '01
Norm,
I just read your email….you are right on!!!!!!!! While I am no longer in Cleveland, I have heard that the business base in the area has taken some real hits. What is interesting is that where I live ( Wal-Mart territory ) our economy is booming but it is based upon a retailing concept that I truly feel will usher in deflation into our whole economy. Anyway, that is another subject. I did want to put my two cents into your thoughts. I trade the equity futures ( S&P 500's) and follow the stock market on a regular basis and I see a market that is about to rollover…despite what the media will tell you. I personally feel that we are still in a bear market….but only time will tell.
Anyway….here is an article from a man who provides a $36,000/year newsletter to some of the main institutional players and I thought that you would be interested.
My hope is that the market will stay strong, but my fear is that in 2004 we could all take a real hit ( unless you know how to short the market ) which will only bring your thoughts closer to reality.
Blessings,
xxxx xxxxxxx
Class of '75
Norman: I am in receipt of your recent e-mail. Like you, I am very interested in our hometown and I offer my services and resources to your quest in any way you deem necessary.
Please feel free to contact me at any time so we may discuss how I may be of assistance.
xxxxx xxxxxx xxxxx, US' 77
I wish you good luck in the CAUSE. I can only how imagine how difficult it is to attract talent, youth and capital to Cleveland. I am at XXXXX University now (US class of 1999). My only word of advice is to create links with Cleveland State, Case Western, etc. XXXXX University has spawned a yearly entrepreneurship contest where students submit business plans in hopes of winning 50K in seed capital in addition to advice and legal counsel from local VC organizations. The competition has spawned a few businesses that have lasted more than a year.
Good luck---
xxxxxx
Norm:
You should speak with XXXXX, a US grad, about NEOprenuer. 216 xxx-xxxx. He is of similar mindset and efforts have already been made. We need to concentrate our efforts if any of many initiatives can be successful.
xxxx xxxxxxxx '80
Norm,
Your e-mail comes at a coincidental time for my business. We have recently been engaged by a start up company that is part of GLIDE, the "Great Lakes Incubator and Development Enterprise" at Lorain County Community College in Elyria. As a result, we have begun an extensive marketing effort among other technology incubators across the Eastern half of the U.S.
Our company provides a variety of marketing services to Information Technology consultancies, systems integrators and developers, as well. We have been working with the IT industry for about 9 years, but have only recently engaged the incubator market.
If we may be of help in developing "CAUSE for Cleveland," please let me know.
xxxx
Norm,
I think that CAUSE is an excellent idea and I commend you on your initiative. I have had similar thoughts along these lines for the past few years. I would be very interested in participating or taking a leadership role as you execute your vision. Please keep me informed. Thanks for your efforts.
xxxxx xxxxxxx - Class of 1986
Mr. Roulet,
I'm interested in this cause. How can I help or at least find out more? I'm US class '99, and a year away from starting med-school. I'd be particularly interested in leveraging the biomedical prowess of CWRU & Cleveland Clinic esp. for establishing biotech companies.
Thanks!
-xxx xxxxxxx
Norm,
Thanks for your email. I agree with many of the things you said especially the "quiet crisis" in Cleveland. I saw that you are co-located in Northern California. Maybe we could grab lunch and talk sometime. I am starting a new independent xxxxxxxx xxxxxx here in California and get over to the Contra Costa Valley pretty often.
Let me know.
GO BROWNS!
xxxxx xxxxx
Norm,
I really agree with your logic. A little background on myself, I graduated from US in '99, and am finishing up a degree in landscape architecture right now at the University of xxxxxxxxx. I really consider myself a self-motivated entrepreneur with a lot of ambitions. Right now I am working on my own little company http://www.xxxxxxxxxxx.com and seeing were I can go with it. Anyway, I really like what you have and would be willing to help when I have to opportunity to.
Regards,
xxxxx xxxxx '99
I would love to contribute in the way of low-cost IT Hardware and software for new businesses and existing companies. Keeping costs down for necessary IT tools is always useful.
Feel free to create any kind of IT link that would connect new and existing businesses directly to me. I deal mainly with small to medium businesses as well as a few enterprise level customers.
If you need any feedback, let me know.
Thanks.
xxxxx xxx
Norm,
I am xxxx xxxxxx class of '93. I am a Entrepreneur and would like to help in any way I can.
xxxx xxxxxx 216.xxx.xxxx
Mr. Roulet:
Hi, I am xxxxx xxxx class of 02 from University School, and I just wanted to reply to your letter. I am now a second year undergraduate at xxxxx University, and I am in agreement with your ideas about making Cleveland a much more entrepreneur friendly and an opportunistic space. I think one of the major problems involved in bringing more opportunities to Cleveland involves the actual presence of opportunity in the city. This summer, I interned in Cleveland with xxxxxxx xxxx, an immigration lawyer, and one of my co-workers was with a program from Yale. I guess Cleveland provided incentives for Yale undergraduates to work in Cleveland as a way of bringing recognition and knowledge of working opportunities in Cleveland. Speaking form an undergraduate perspective, I think one effective way to lure more people into Cleveland would involve providing incentives for them. In an economy where opportunity is poor, people, especially college students search for places that provide incentive. I know at xxxxx, there is incentive for me to stay the summer and work here because of the amount of stipend that they give is comparably higher than what I would have at xxxxx, and they might even provide housing. Anyway, I just wanted to write to you to express some of my jumbled thoughts in response to your letter. If you want to talk further, I would be more than happy to speak with you. Thanks for your time, and more importantly, thanks for writing this letter to bring awareness to us all at US.
xxxxx xxxx
Hi Norm-
Sounds like a great concept. I am in the commercial real estate business-primarily downtown.
Let me know if I can help.
xxxx xxxxxxxx '83
tell me more norman, i surely support efforts to aid in the development of Cleveland. Have been here since my return from law school (US 86, xxxx 90, University of xxxxxxx '93), deeply devoted to Cleveland, and respect your interest... do keep me informed
xxxxx xxxxxxxx '86
Norm:
From the class of 86 I applaud your effort and see a real need for your vision. I am an entrepreneur by night and an investment banker by day. It would be wonderful to reach out to the high net worth US Community for help funding local projects. I believe if there is structure to an organization, success would follow. Please include me on your list and look forward to meeting you in the near future.
xxxxxx x xxxxxxxx
Norm,
You're email was great and it's for a great cause. As a graduate of University School in 1995 and currently living in New York City, I've always had hopes of one day returning to Cleveland and raising a family. Unfortunately, this no longer seems like a possibility. Its even more disheartening going home and seeing what the economic down turn has done to my parents. My Mom and Dad have worked all of their lives to provide the best possible opportunities for my brothers and me. That includes paying over 30 years of tuition to put all of us through US!
Trust me when I tell you that their investments have substantially paid off. What I have learned from US, college, and especially New York has been incredible. I want to leverage these aspects and bring them back to Cleveland. I want to one day come home and start paying my parents back. I want to one-day make Cleveland my home again.
I'm here to help and want to do whatever I can. Cleveland is a good place and place were prosperity can exist. Please let me know what the next steps are. I want to help save Cleveland.
Kind regards,
xxxxx
Norm,
I have to admit that when I first checked out your site, I was immediately confused and bewildered. Then I went back to it and dug a little deeper and found some analysis on banking (which I have a history in). Then I realized you were performing analysis on their websites and I got very interested (since I've been a programmer for the past 8 years and have dabbled in web related endeavors).
Have you heard of a company in Cleveland called Thunderstone? They do some interesting stuff.
Anyway, the economic downturn really hit my company hard. It was a mid-market CRM consultancy. I'm now working in an insurance company as their CRM guru (a cross between educating the user community and programming the results). I'd be interested in doing anything that will broaden my horizons, or someone else's horizons.
Not sure how I can get involved, but I'm looking for a new direction in life.
Regards,
xxxx xxxxxx
US Class of 1980
Norm,
This is very interesting. Although I live in the New York metropolitan region I would be interested in being connected.
Norm,
I would be very interested in trying to rejuvenate the Cleveland and Northeast Ohio region.
xxxxx xxxxxx