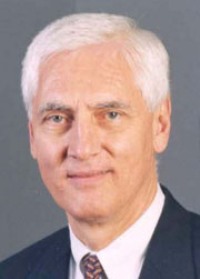 The Board of Trustees of Case Western Reserve University [1] announced today that it has elected Dr. Gregory L. Eastwood, MED '66, to become Interim President of the University effective June 2, 2006. Eastwood has been President of SUNY Upstate Medical University in Syracuse, New York [2] since January 1993. "As an alum and member of the Board of Trustees of Case Western Reserve University, I am eager to assist the University during this transition period. I look forward to working with the faculty, students, staff, our alumni, and the Cleveland community" Eastwood said.
Eastwood received his B.A. from Albion College [3] (Phi Beta Kappa) and his M.D. from Case Western Reserve University Medical School (Alpha Omega Alpha). He is married to Lynn Marshall Eastwood who received her M.S. in Mathematics from Case Institute of Technology. Eastwood's career in academic medicine has included research, teaching, and the practice of gastroenterology. He has held faculty appointments at Harvard Medical School [4]and the University of Massachusetts Medical School [5]. Before joining Upstate in 1993, Dr. Eastwood was Dean of the Medical College of Georgia [6].
"We are very fortunate that Dr. Eastwood was available and passionate about helping Case Western Reserve University through its transition to a new permanent President," said Frank Linsalata, Chairman of the Board of Trustees. "Greg brings strong academic credentials and a long, proven track record of administrative leadership and success in a multi-college university. He also has a deep knowledge of Case Western Reserve University from his service on numerous committees, and, for the last three years, as a member of the Board of Trustees. He currently serves as Vice-Chair of the Academic Affairs and Student Life Committee and is a member of the Campus Planning Committee. Thus, he has a very clear understanding of all of the major initiatives that are underway at our uniuversity.
"The Board welcomed input from the leadership of the Faculty Senate and is pleased that Greg meets all of the criteria that they asked to be considered. He has worked with the academic and administrative leaders of Case in his board and committee roles and thus will have a very quick "start-up" in his new responsibilities," Linsalata said.
Upstate Medical University is comprised of University Hospital, four professional colleges (Medicine, Nursing, Health Professions and Graduate Studies) and a clinical campus in Binghamton. Last September, Eastwood had announced his intention to step down from the presidency of Upstate Medical University and had planned a one year sabbatical before returning to the faculty.
During his tenure, Eastwood has marshaled resources to renovate and improve the facilities and infrastructure of Upstate as well as expand with new construction. Among the highlights of his presidency are the construction of the Setnor Academic Building; the opening of the Institute for Human Performance; the Vertical Expansion of University Hospital that will include the Golisano Children's Hospital of Central New York; the first Gamma Knife Center outside metropolitan New York City; and the implementation of the "Smoke-Free Upstate Policy" that prohibits smoking within the buildings or on the grounds owned and leased by Upstate. Under Eastwood's tenure, Upstate Medical University has more than doubled its operating budget from $325 million to $725 million. Employment has increased from 4,700 to 6,300, making Upstate one of the largest employers in the area. Building and renovation projects have exceeded $200 million.
"As Dr. Eastwood steps down from his presidency, he leaves a legacy of enormous progress and a university that is poised for an even greater future," said Ron Young, vice-president for public and governmental affairs at Upstate. "Upstate Medical University has thrived under his guiding hand."
Eastwood will immediately begin to work with Dr. Edward Hundert, current President and the leadership of the University administration and faculty on transitioning to his new position "I look forward to working with Dr. Eastwood to ensure a smooth transition over the next few months" said Hundert.
Case will soon begin the process of a national search for a permanent President. This effort will involve input from all constituents of the Case community.
For more information: laura [dot] massie [at] case [dot] edu (216)-368-4440.
Posted by: Heidi Cool, April 7, 2006 08:38 AM | News Topics: Administration [7], HeadlinesMain [8]