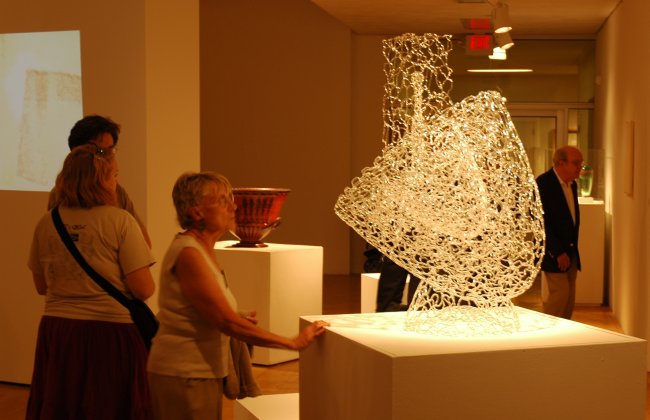 What a week for fine art in Cleveland! In a wise move to spread the cultural-wealth and art enthusiasts time, Spaces made great noise and started the weekend early by throwing their "Street Repairs" opening party [1] on the relatively quiet 09/07/06 Thursday night, drawing in a huge crowd. Read on about Friday's festivities [2]...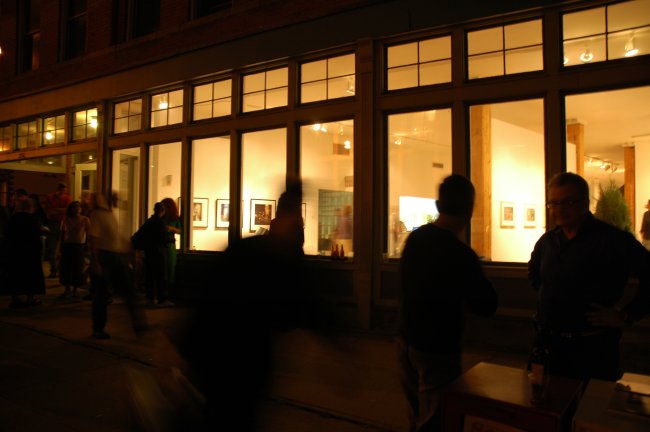 Friday, 09/08/06, the Cleveland Institute of Art (CIA) launched their annual Faculty Show with a perfect celebration of the art work of their talented faculty that drew easily 1,000 artists, students and local supporters of arts and the CIA. Across town, the Tremont Art walk was bustling with passive and interested arts enthusiasts, and there were too many other arts events tonight for culturally-tuned community activists to take in it all. Tomorrow, the opening of the Van Duser Perspective at Convivium 33 [3] and a 16mm birthday filmfest for leading NEO-hypo filmmaker Robert Banks [4] further confirm the remarkable strength of arts creation and support at the core of this city, Cleveland.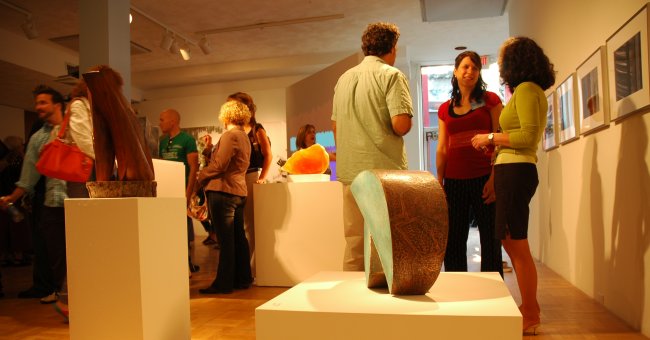 The CIA faculty show is always diverse and this year was as strong as ever, and the school itself had a great fresh look, as this summer CIA painted their International Style facility, across from the Cleveland Museum of Art, with a very striking dark blue-green and red pattern that gives the building a strong new presence.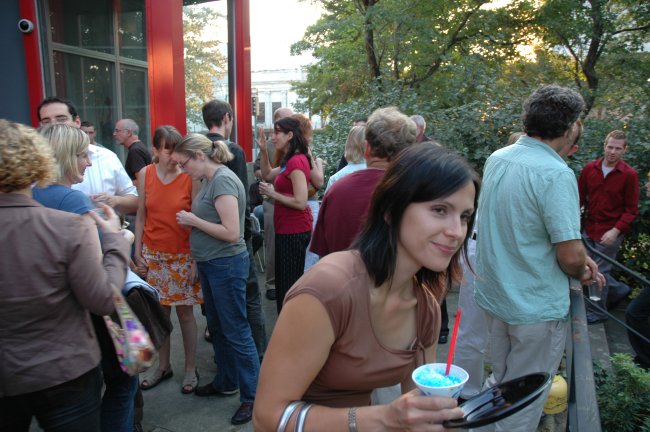 I've been going to this show since I was a small child so I love seeing the progression of work of many old friends, and fresh work by the new. Tonight, I was especially awed by where Barbara Stanczak [5] has taken her sculpture, showing four beautiful pieces.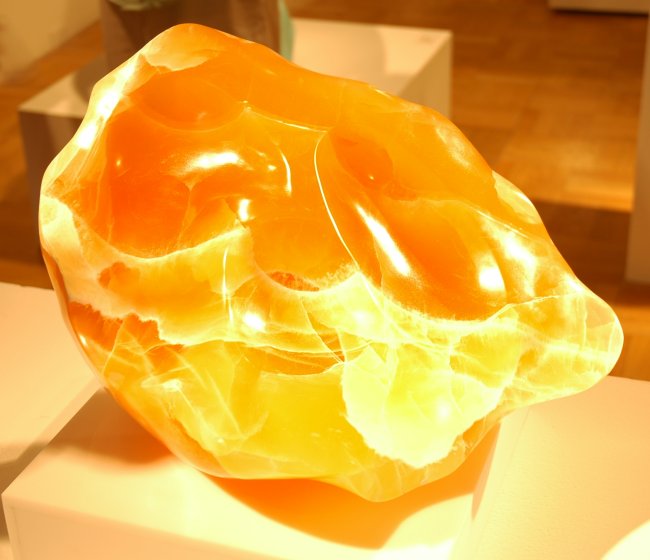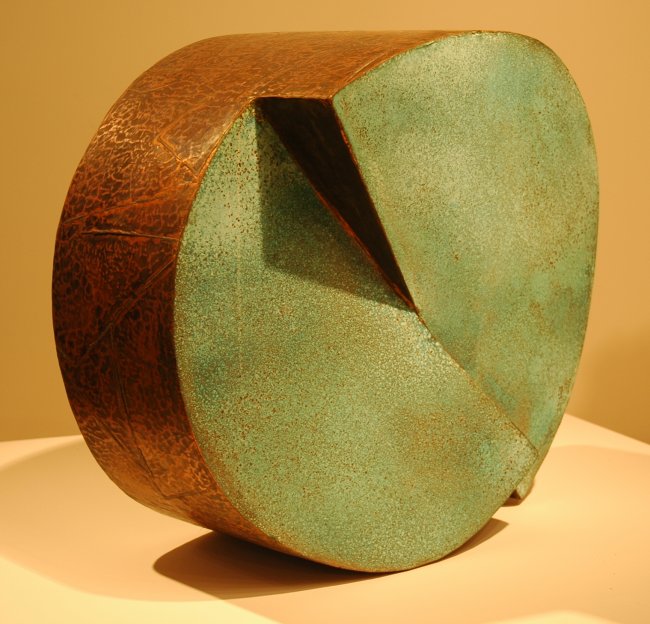 Glass master artist Brent Kee Young [6] shows two of his striking flamework Pyrex sculptures - a unique technique Young has developed in form and beauty over the past few years... all awesome.
Legendary ceramic artist Judith Salomon [7] shows several major works, including a sweet set of three cups on a platform that was such a bargain that Evelyn and I are buying that (about the only thing in the show we could possibly afford... thanks for the reasonable pricing, Judith).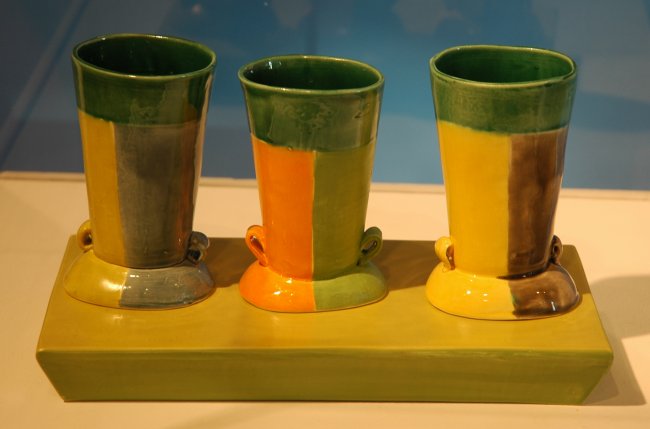 Perhaps the most revealing work in the show is by the head of Industrial Design, Dan Cuffaro [8], who has only been in NEO for a few years but gets it... its the soot. He has designed striking smokestacks and packaging for them that are beautiful in form and design and really speak of Cleveland, for good and bad. I find it interesting that this is the form Cuffaro embraced here, rather than a maple tree... this is Cleveland.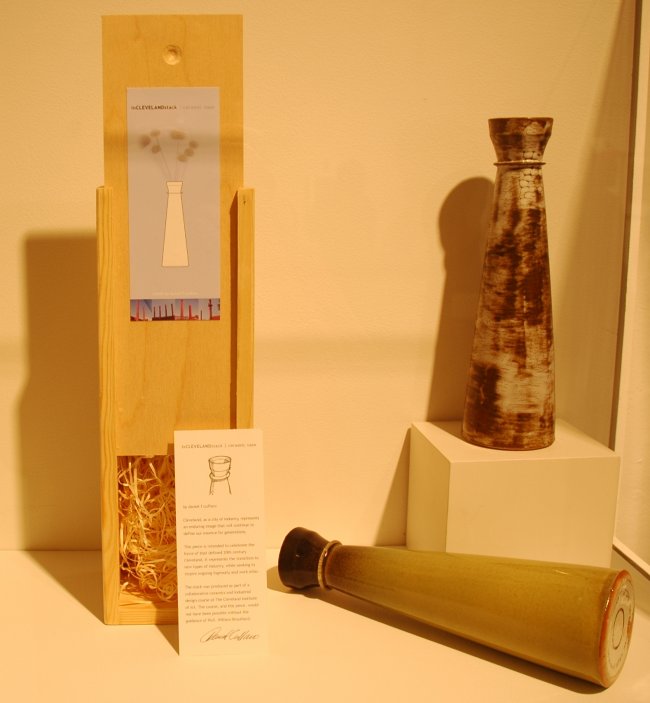 After taking in the real Cleveland of the CIA, I stopped by my favorite galleries in Tremont to see what they were offering up for art walk, and I can recommend making the trip. Dana Depew [9] has filled his Asterisk Gallery [10] with his wide range of work, which is amazing. Doubting Thomas features its usual eclectic and challenging mix of art, highlighting some great photography, and I was thrilled to see a new space called Hybrid showcasing some very exciting young artists, including Zachary Hart Baker, whose work I recognized from the City Xpressionz graffiti fest [11] a few weeks ago. My camera battery was dead by then so I can't share any of this work here, but will make a point to get back to Tremont for a second look and will write that up separately (and I have posted the Xpressionz work of Zachary Hart Baker at the end of this posting).
As a last thought from the evening, while there were 1,000s of people out enjoying the arts scene for the past two nights, including free food and beverages and numerous great bands (I especially loved the trippy CIA student band Elfabot that played at the Faculty Show), I saw very little sign of people buying art. For a safe buy, one can't find smarter art than the work of CIA faculty, so every work in the show should sell. For a great buy, you can't find better deals anywhere on Earth than the galleries in Tremont - with powerful work selling for from $20 to a few hundred dollars... topping out at around $1,000. There were people all over Tremont spending more on one dish at the swanky restaurants than it would cost to buy a great work of art, but I saw very few red dots. As we move into a period where community leaders want the public to tax themselves to raise money for the arts, I think they should lead by good example and get out in the arts scene and spend some of their own money on works of fine art of every variety. On the same day as the CIA opening, Ronn Richard was at the City Club pitching the arts tax... how about he and the richest 10% of people in the region pulling out their checkbooks for the artists who will not benefit from such a tax, but so greatly benefit this community and our economy. If financially strapped folk like Evelyn and I can find a way, the rich can to.