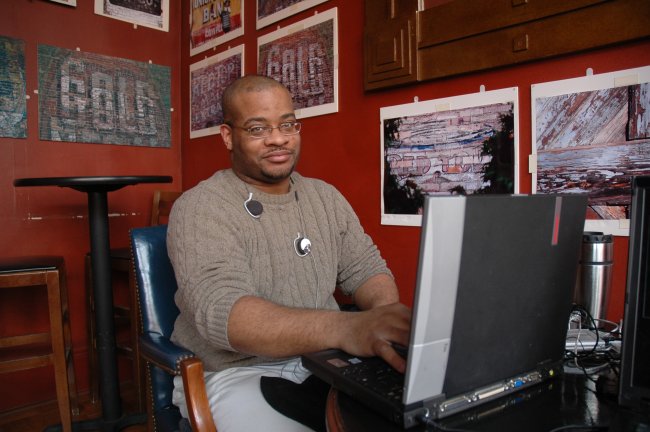 It is a great pleasure to have our original Drupal developer Derek Arnold back in the server seat for REALNEO and all tech things 7gen (shown here at my favorite wifi and human friendly coffee house in town, Talkies). Besides already cleaning up months of tech messes, less than two weeks back on track, Derek is now in Sunnyvale, California, as probably the only NEO representative at the Yahoo sponsored OSCMS [1] (Open Source Content Management System) conference, the Drupal Performance and Scalability Seminar [2] and the Drupal Hackfest [3] - March 22-25, 2007. We've been touching base while he is there and it is clear he is learning lots of great insight, spreading NEO love in the open source world, and showing all that we are serious about making this a real open source domain (and I mean realneo and this region, in that).
I already know I'm going to hear mad props for Derek coming back into the global open source world - he was well appreciated in Portland [4] when he supported OSCON/DrupalCon for realneo, in 2005, and he is more on tune now than ever. It is not easy to connect with a community that is truly global, so these in-person meet-ups, mashups and conferences are essential to operating at the leading edge and bleeding edge with these technologies.
Next up - OSCON [5] and UbuntuLive [6] in Portland in July, where Derek will team up with my oldest open source friend, Carl Edwards, now shifting into R&D for realneo and 7gen. If you read this and think "why Portland", turn that around and think "why not NEO". Perhaps because Derek is the only person associated with NEO participating in the global open source scene. Then ask "why" about that.
Speaking of which - it costs real money to travel to participate in such events - not mad OneCleveland money but a couple of grand here and there - so we are interested in sharing the costs and wealth with anyone here who wants to gain open source insight and respect in collaboration with us. Anyone who makes a contribution to cover some of the costs from this week's events (which was a $1,600 or so hit in the wallet) will gain exclusive access to a brain dump from Derek on what he learned there - figure a rate of $100/hour of consulting. I believe EcoCity/GCBL is on board for a few hours - please feel free to let me know if you can chip in and want the latest brain-gain as well - note my new email address is finally norm [at] realneo [dot] us, where I belong.
We'll also host an excellence roundtable featuring Derek sharing on his insight gained from Sunnyvale, in the near future, to help spread the wealth - we'll post on this to realneo and invite all our friends. And, watch for Derek to write up on this past week's events on realneo, as soon as he shakes the jet lag.
Thanks for bringing NEO respect where it is so needed, Derek! To NEO 3.0!