The most important message communicated at today's press conference kicking-off Lead Awareness Week [1] was that our government leadership at the state, county and municipal level stand united to eradicate lead poisoning in Northeast Ohio by 2010. Publicly expressing their concern about lead poisoning here, and their commitment to its rapid elimination, East Cleveland Mayor Eric Brewer, Cleveland Mayor Frank Jackson and Cuyahoga County Commissioner Peter Lawson Jones added important voices to the chorus of public health and social service champions of the Greater Cleveland Lead Advisory Council [2]... a unique, world-class collaboration of around 85 organizations.

WKYC TV-3 did a nice job of picking-up the news, which may be viewed on-line here [3].
Throughout the week, related activities are planned across the region, including free lead testing for children and a resource fair, as listed below.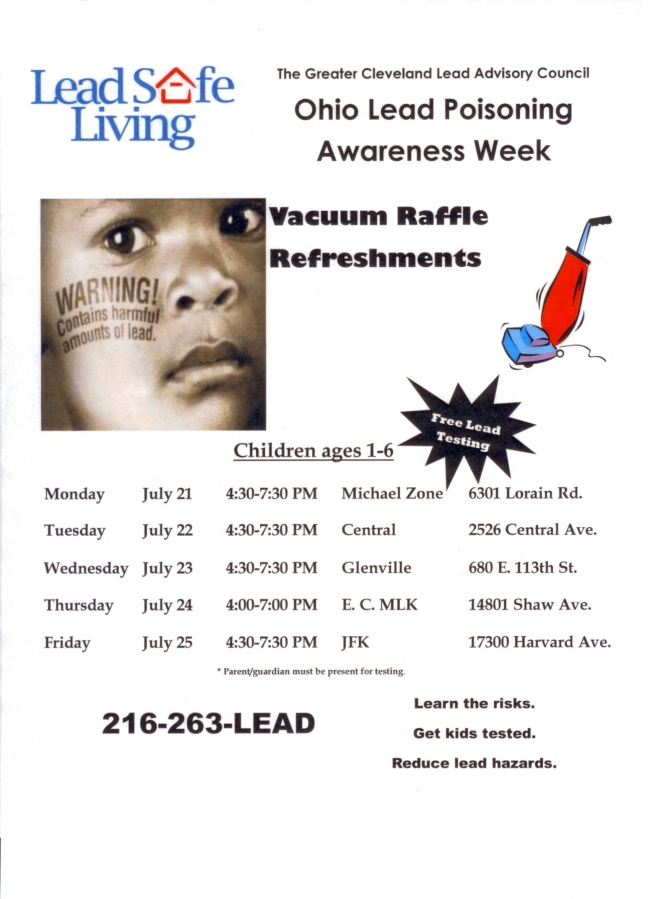 Links:
[1] http://realneo.us/Press-Conference-in-recognition-of-Ohio-Lead-Awareness-Week
[2] http://www.clevelandhealth.org/Enviroment/LeadSafeLiving/EliminationPlan.html
[3] http://www.wkyc.com/news/local/news_article.aspx?storyid=93459&catid=3
[4] http://realneo.us/system/files/LawsonJones650.JPG
[5] http://realneo.us/system/files/GCLACJacksonPanLogo.jpg
[6] http://realneo.us/system/files/Lead_Awareness_Week_2008_Schedule.jpg
[7] http://realneo.us/system/files/Lead_Awareness_Week_2008_650.jpg
[8] http://realneo.us/do-you-love-pets-or-yourself
[9] http://realneo.us/gclac-eradicating-lead-poisoning-in-greater-cleveland