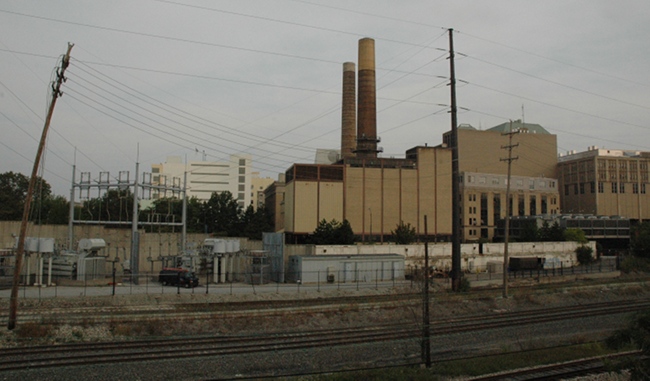 It recently came to my attention that one of the most serious sources of pollution in Cuyahoga County is literally in my back yard. Less than two kilometers upwind from my home are the coal and natural gas fired external boilers at the power plant shown above, at University Hospitals, operated by Medical Center Company (MCCo), polluting the surrounding neighborhoods since the 1930s.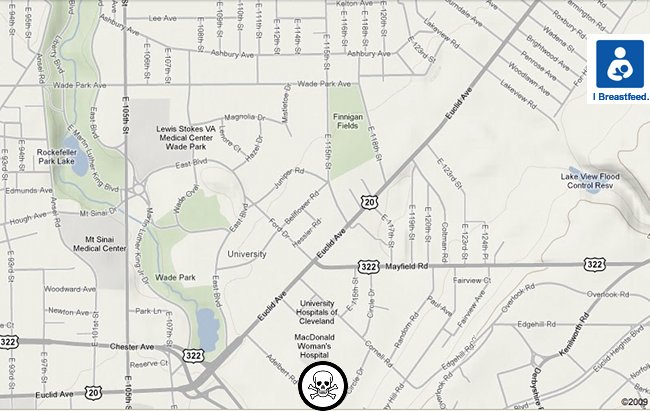 From the MCCo website [1], "For more than 75 years we've successfully provided steam, electrical power, compressed air, vacuum, hot-soft water and chilled water to each of our members. Our primary focus has been to maintain and service the equipment necessary to provide reliable, low-cost utility services to our member institutions."
And:
Today our customers include:

University Hospitals of Cleveland
Case Western Reserve University
The Cleveland Museum of Art
The Church of the Covenant
The Musical Arts Association
The Cleveland Botanical Garden
The Cleveland Hearing and Speech Center
The Cleveland Medical Library Association
The Cleveland Institute of Art
Severance Hall

All of the corporate members are located in the area designated as University Circle in Cleveland, Ohio. All of our members are organized and operated exclusively for educational, charitable or religious purposes and as such are tax exempt institutions.
Actually, from the MCCo home page... "The Medical Center Company quietly yet efficiently provides the power behind each of the facilities within University Circle." So, there is a huge and astoundingly powerful institutional partnership behind this enterprise, which seems to include just about everyone in Northeast Ohio who is anybody.
What they are partners doing is explained in the benefits section of the MCCo website:
The District Energy Solution provided by MCCo benefits the community in countless ways:

Financial

Utilizing one source for all critical utility services enables each of our members to save millions of dollars in energy costs each year. It is estimated that MCCo will save at least $160 million in energy costs for its members over the next ten years. MCCo houses all of the equipment and sources necessary to produce and pipe steam, hot water or chilled water to the nine non-profit institutions located within University Circle. Without MCCo, these facilities would need to use valuable building space for heating and air conditioning units.
Members also save money on electric power by letting MCCo negotiate a price with other providers. MCCo can save money by purchasing larger blocks of electric power, and aggregating the load through their own substation for further distribution. The economies of scale provided by MCCo save countless hours of maintenance and save millions of dollars a year for each institution.

Stimulate the Economy

Thanks to the millions saved by using MCCo, each institution can invest in growing their business and creating new jobs which spurs the economic growth of the Greater Cleveland area. The saved dollars can go toward the arts, research and development and help to keep the cost of healthcare and tuition down.

Reliable and Efficient Energy

The MCCo central facility provides dependable energy to temperature-sensitive institutions caring for newborn infants, providing research and development for scientific breakthroughs, displaying art masterpieces and housing thousands of college students. For over 75 years, MCCo has provided the power and energy necessary for these institutions to operate effectively. Should issues arise, the reliable professionals of MCCo are just one phone call away, 24 hours a day.

Environmentally Responsible

The Medical Center Company believes that environmental protection is an integral component of energy production and delivery. MCCo is committed to being a good corporate neighbor and demonstrates this commitment by supporting continual improvement of environmental performance, pollution prevention, and energy efficiency. Over the years, MCCo has upgraded and installed pollution-control systems that exceed compliance standards to reduce particulate and other emissions. Incorporation of renewable energy resources and advanced generation technologies are currently under consideration.
I love how even polluting in University Circle "stimulates the economy".
Their shit don't stink.
These people may do no wrong, which is what makes this situation so wrong.
Nearly every leader in NEO is wrong, here... and that includes nearly all our planners, economists, academics and supposed environmentalists, all beholden to University Circle insitutions and their funders, like the area Foundations behind all our planning in the region.
So MCCo saves its institutional, tax-exempt partners something like $16 million a year by selling them "district power" for lower cost than is available to the public, by burning coal in cheaper ways than public utilities may, and polluting more in the process.
Here is how that is actually reflected, in impact on the community...
As of 1999, the MCCo plant was among the 60-90% dirtiest/worst facilities in America for lead, nitrogen dioxide, ozone and particulates... I believe the annual PM-2.5 is low because the plant has reduced operations during warm weather....
The Scorecard for Medical Center Company [2]:

There is shockingly little public data I may locate on the pollution caused by this facility, now and in the past. There is also little data on the health effects on surrounding neighbors, like my family members.
What is certain is that this facility has harmed the health of people in the community, and continues to do so today, and it is run to benefit a hospital where my father has been a physician for his entire career.
Knowing the truth, our family does not approve.
What is uncertain is the actual "benefit" of MCCo to anyone, considering the harm it has caused the environment and area residents and core institutional stakeholders.
The area around the powerplant that is not controlled by University Circle is quite blighted and unhealthy. Perhaps this is the primary reason why?!
Further, if this plant is harming University Circle stakeholders, like students, faculty, doctors, and staff at dozens of huge institutions within 100s of yards, like it is harming the residents in the surrounding community, then it is not worth the cost savings for even the few institutions that appear to benefit, considering the physical harm to their stakeholders and all.
As one of the neighbors harmed, I contend one life harmed is not worth the $16 million a year saved by these institutions.
As a lifelong member of the University Circle family that is justification for this plant, I can say I do not want the burden of the harm it causes on my soul and conscious. My other family members agree.
Consider disturbing research from the University of Michigan - "Inhaling a heart attack: How air pollution can cause heart disease [3]" - which reports "researchers at the University of Michigan Health System have determined the very air we breathe can be an invisible catalyst to heart disease".
From this report (video report above):
Ozone gases, a well-known component of air pollution, were not the biggest culprit. Rather, small microscopic particles about a 10th of the diameter of a human hair caused the rise in blood pressure and impaired blood vessel function, tests showed. The blood pressure increase was rapid and occurred within 2 hours, while the impairment in blood vessel function occurred later but lasted as long as 24 hours.

It's believed these fine particles deposit deep into the lungs and certain components may gain entrance to the blood stream, or cause an inflammatory response throughout the body. There is also evidence that functions in the body's nervous system are also disrupted.
The following are the ten facilities in Cuyahoga County, as of 1999, releasing the most tons of particulate matter of 2.5 microns or less:
If you live near one of these facilities, you have an increased risk of heart attack and stroke.
This heart disease risk is in addition to increased risk of asthma, cancer and many other fatal conditions caused by pollution, and reflected in poor health and early death of those living near such facilities, which are concentrated in industrial, urban centers like Cleveland.
Why "we" are building new, high cost housing near these pollution sources, like in Tremont and University Circle, is beyond logical explanation. That we are using public money for such "Strategic Investment Initiatives", rather than addressing pollution sources, is beyond belief.
Consider trends in America and especially in polluted places like Cleveland with Asthma, as reported on the Environmental Healthwatch website [13]:
Asthma is the leading cause for hospitalization of children at MetroHealth and University Hospitals. Nationally, over the past 20 years, asthma rates have increased 74% and deaths have increased by 50%. Asthma is also a major reason for school absences.

The EPA estimates that the chance that a child with asthma will have an attack is 40% greater on high outdoor pollution days. A recent study that followed 3500 children for up to five years found that time spent playing outside was associated with a higher rate of asthma in communities with high ozone pollution, but not in areas of low ozone.

Outdoor asthma triggers include fine particulates (soot), ground level ozone (smog), diesel exhaust, sulfur dioxide, nitrogen dioxide and carbon monoxide, as well as pollen and mold. The major sources of outdoor pollutants associated with asthma are power plants, passenger vehicles and diesel buses and trucks.
From the old NeighborhoodLink website is more on the growing Asthma crisis, which may be caused and triggered by pollution:
Asthma is a chronic lung condition that causes breathing problems. During asthma attacks, air passages in the lungs narrow, making it hard to breathe.
Asthma rates have doubled in the last several years, rising from less than 7 million people in 1980 to more than 14 million people in 1994. *
25,000 children suffer from asthma in Cuyahoga County. *
In the US, 5 million children suffer from asthma - the most common chronic disease in children. Nearly 1,500 children die each year from asthma, up 50% since the 1980s. *
2-3 times more African-Americans die from asthma than Caucasians. *
People in inner cities generally have the highest asthma rates because these urban environments often have high levels of air pollution and poor housing conditions. Higher numbers of people of color and low-income households are located in these urban areas and have higher asthma rates.
Urban, minority and low-income children are at greatest risk. African-American children have 20% higher asthma rates than other children.
Asthma is the leading cause of work and school absenteeism due to chronic illness.
Whether even growing food near such pollution sources makes sense is an important question I do not see being addressing in this local foods happy community.
In fact, Cleveland's Cuyahoga County is one of the most dangerous counties in America for nearly all environmental factors.
Air Pollution in Ohio Counties - National Rankings [14] (City-Data.com analysis of data from the Environmental Protection Agency (EPA)).

Many Ohio counties rank high on lists for carbon monoxide (2 counties), airborne particulate matter (18 counties), ozone (8), nitrogen dioxide (1), sulfur oxides (15), and lead air pollution (6). For example, as many as eighteen Ohio counties were listed among the top 101 counties in the US for highest Particulate Matter (PM2.5) in 2005 (ppm)
Top 101 counties with:
highest carbon monoxide air pollution readings in 2005 (ppm) - Cuyahoga County, OH: #48 (3 ug/m3)
highest Nitrogen Dioxide air pollution readings in 2005 (ppm) - Cuyahoga County, OH: #24 (0.02 ppm)
highest Particulate Matter (PM10) Annual air pollution readings in 2005 (µg/m3) - Cuyahoga County, OH: #24 (41 ug/m3)
highest Particulate Matter (PM10) 24-hour air pollution readings in 2005 (µg/m3) - Cuyahoga County, OH: #45 (115 ug/m3)
highest Particulate Matter (PM2.5) Annual air pollution readings in 2005 (µg/m3) - Cuyahoga County, OH: #6 (19.4 ug/m3)
highest Particulate Matter (PM2.5) 24-hour air pollution readings in 2005 (µg/m3) - Cuyahoga County, OH: #19 (51 ug/m3)
highest Sulfur Oxides Annual air pollution readings in 2005 (µg/m3) - Cuyahoga County, OH: #22 (0.008 ug/m3)
highest Sulfur Oxides 24-hour air pollution readings in 2005 (µg/m3) - Cuyahoga County, OH: #26 (0.042 ug/m3)
I became aware of the current MCCo power plant because the powers that benefit from this plant want to build another one, less than one kilometer from my home, within the next five years. That got me looking into the people behind the powerplants, who have been deceiving the community.
I have not seen anything in writing about this new powerplant, but have seen "signs" and been told it is coming by the mayor of East Cleveland. It is apparently planned for East Cleveland, northeast of "University Circle", to move pollution further from University Circle stakeholders, and more into my neighborhood.
The word being spread on the streets in the target neighborhood, by workers on the target site, is that it will be a "medical facility", which would only really apply if the "owners", which we assume ar MMCo, will use it to study the impact of pollution on living things nearby.

That it seems this new powerplant is being kept secret from the neighborhood where it is intended to be built, but seems to be known by most area leaders, raises serious questions about the will of area leaders to protect public health over major insititutonal interests.
There is no real "environmental movement" in Northeast Ohio, and the "sustainability movement" is based at Case, the Cleveland Museum of Natual History, and the Botanical Gardens, based in University Circle, which are all customers of MCCo, and so polluters, leaving protecting the environment entirely up to citizens, against the establishment.
The University Circle establishment will fight hard to save $160 million over 10 years. Hell, they kill for that money.
Which raises the question, what other pollution issues do area leaders hide from the public.
It seems to me many, and that seems the reason our economy has in fact failed here, and will not come back in our pollution-shortened lifetimes... that is the 800 pound gorilla in the region's economy that no leaders ever want to talk about.
AKA, the powerful Ohio and US coal industry, and their big-coal Governor of Ohio, and all their deals in Northeast Ohio and Washington.
University Circle buys dirty Ohio coal and pollutes the old fashoned way, and gets lots of Third Frontier money from Columbus in return. So, University Circle institutions get a far bigger payout from coal power than $160 million in savings over 10 years, as Columbus offers great rewards for keeping dirty coal in demand and legitimate in this uncivilized world.
Nobody wants to live near pollution that they know about.
People unwittingly may live near pollution they don't know about, until it kills them. That is unfair.
As people become unhealthy and die off from pollution, their neighborhoods fail. That has happened all over Cleveland, because of industrial pollution like from MCCO. And the neighborhoods around the MCCO plant are dead, dead, dead.
Learning about the connection between air pollution and heart disease, which is an early killer in my family, and asthma, which hurts one of my daughters, and lead poisoning, which effects two sons, and then reading an article I saw recently on REALNEO [15] about high uranium levels in people living near coal plants in India, has me worried about the health consequences of living near the existing Medical Center Company powerplant, and the harm it may have caused my neighborhood over the past 75 years, and the harm it may be causing my family and neighbors today.
Consider new harm being found caused by new coal power plants in India, through thorough scientific investigation:
Health workers in the Punjabi cities of Bathinda and Faridkot knew something was terribly wrong when they saw a sharp increase in the number of birth defects, physical and mental abnormalities, and cancers. They suspected that children were being slowly poisoned.

But it was only when a visiting scientist arranged for tests to be carried out at a German laboratory that the true nature of their plight became clear. The results were unequivocal. The children had massive levels of uranium in their bodies, in one case more than 60 times the maximum safe limit.

But an Observer investigation has now uncovered disturbing evidence to suggest a link between the contamination and the region's coal-fired power stations. It is already known that the fine fly ash produced when coal is burned contains concentrated levels of uranium and a new report published by Russia's leading nuclear research institution warns of an increased radiation hazard to people living near coal-fired thermal power stations.

The test results for children born and living in areas around the state's power stations show high levels of uranium in their bodies. Tests on ground water show that levels of uranium around the plants are up to 15 times the World Health Organisation's maximum safe limits. Tests also show that it extends across large parts of the state, which is home to 24 million people.

The findings have implications not only for the rest of India – Punjab produces two-thirds of the wheat in the country's central reserves and 40% of its rice – but for many other countries planning to build new power plants, including China, Russia, India, Germany and the US
Considering the MCCo coal plant in University Circle - a few 100 yards from Little Italy - has been operating since the 1930s... and has not historically been a particularly clean plant... it is obvious to be concerned about what happened to the 75 years of flyash generated... was it used for fill in developing the area, or paving roads, like in India?
Does my neighborhood have high levels of uranium?
Do we know what other pollution this plant has spread in the community, and what pollution it spreads in the community, day to day?
Such questions are being researched about other coal-fired pollution sources, in other parts of Ohio, and may be researched here.
GEOCHEMICAL SIGNATURES OF POWER PLANT EMISSIONS IN SOILS AND SEDIMENTS OF THE NORTHEAST U.S [16]

Particulate (fly ash) emissions from coal combustion represent a potential regional pollutant. These emissions may have been a particularly important component of toxic air releases, prior to the Clean Air Act of 1970. To test this hypothesis, we took sediment cores and nearby soil samples from two reservoirs located in northern West Virginia downwind from a concentration of coal-fired power plants. Sediments were analyzed for major-minor-trace elements, lead isotopes, magnetic properties, PAH's, and 137Cs. The temporal distributions of sedimentary As, Pb, Zn, Hg, Ge, combustion PAH's and magnetite show pronounced and well-correlated peaks dated about 1969. Lead isotope data on samples from the 1969 lead peak match data from Appalachian Basin coal, and are dissimilar to gasoline lead. Spherical magnetite with internal metallographic texture, indicative of combustion rather than rock-derived origin, dominates the magnetic properties of the sediment. The simultaneous decline after 1970 of the correlated trace element, PAH, and magnetite peaks in the study area suggests that the amount of power plant particulate emissions has decreased since the initial implementation of the Clean Air Act. Despite this decrease, A-horizon soil samples collected from the vicinity of the two reservoirs are strongly enriched in As, Pb, and Zn relative to local bedrocks, indicating potential accumulation of trace elements in soils over time.

Although the drainages studied are quite small, regional geochemical data suggest that the fly ash component may be identifiable in surficial materials from a significantly larger area. Much of the Ohio River valley is elevated in arsenic in both stream sediments (based on extensive USGS regional stream sediment geochemical data) and on a published USGS national soil geochemical map. The enrichment coincides with a large concentration of bituminous coal-fired power plants along the Ohio River.
It does not appear there is significant, systematic monitoring of pollution near the MMCo plant, now. But EPA modelling of lead contamination at other pollution sources in the region, like the illustration below for Ellwood Engineering Castings, in Hubbard, Ohio, gives some signs of the type of lead fallout that may have occurred around the MMCo plant, over the decades... and may continue today... putting heavy metals and other pollutants in area soil and residents. The inner square below represents a 16 square kilometer monitoring area, with monitors every 50 meters. There are hotspots.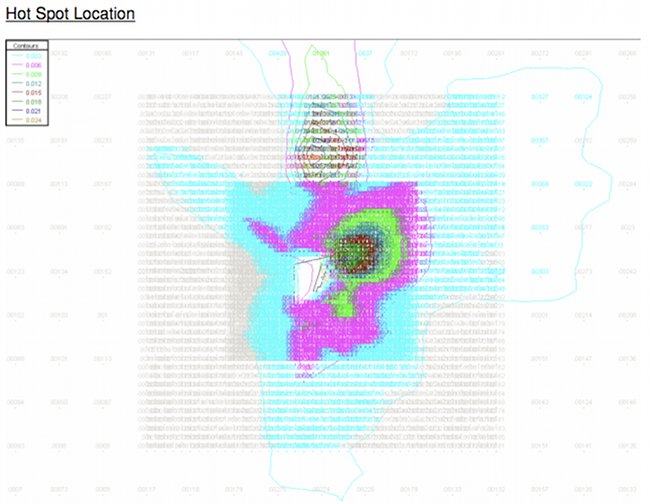 Just knowing this pollution source is around the corner is very stressful. That there are plans to build a second pollution source like this in my neighborhood makes living here hopeless, pointless, and ultimately disasterous. That this polluting is being done in secret, by supposed friends and representatives, is disgraceful
My wife just contacted the Cuyahoga County property assessors office to request a significant property valuation reduction for our property near the MCCo plant, based on facts we have uncovered about current MCCo pollution and plans for a future power plant in our neighbohood. Her letter includes the following:
There are also significant environmental reasons why my home should be worth much less than those of its size, age and condition located in other areas. I am located approximately one mile southeast of one of the worst polluting coal power plants in the United States – this is the privately owned power plant at University Hospitals. Also, mayor Brewer just confirmed plans to build another coal power plant along Euclid Avenue approximately one mile Northwest of our home. I feel that my neighborhood has been intentionally blighted because of these coal power plants and the tax value of my home should reflect this. I believe the $35,000 I paid is an accurate market value and my tax value should be less than that.
I actually believe people living near such pollution sources should be given tax exemptions, as it is hard to say being killed by your leadership is of value worth paying taxes to fund... paying taxes for poor inner-city education of your lower I.Q. children lead poisoned by their community seems an outrage.
That so many people who are supposed to look out for the public seem to be hiding so much about all this pollution, and the fact they are planning aspects of their polluting in secret, makes me distrust these people "in the know" entirely. We trusted them with our well being, and are their victims.
Those who know about all this know who they are... we should know who they are, as well.
I am quite confident the people in the know include all our "leaders" planning anything "Greater" University Circle, and "Opportunity Corridor", and "Strategic Investment Initiative", and "Sustainable Cleveland", like leadership at the City of Cleveland, major area Foundations, the GCP and Fund for our Economic Future, our many Development Corporations, University Circle Incorporated, the Cleveland Foundation, the Cleveland Botanical Gardens, Case Western Reserve University and other area universities, and other institutions throughout University Circle, and others planning the "sustainability" of our region.
Are you in the know?