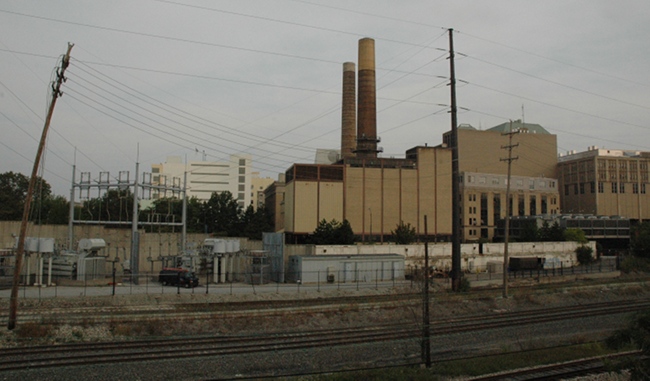 Thanks to the timely, effective intervention of the Sierra Club, the Environmental Protection Agency has agreed to hold a public hearing for citizens to discuss their concerns about the renewal of the permit for the Medical Center Company (MCCO) to burn coal in their powerplant in University Circle (above), harming residents and workers in the densely populated and economically distressed surrounding neighborhood.
As I have previously posted on realNEO [1], "one of the most serious sources of pollution in Cuyahoga County is literally in my back yard... coal and natural gas fired external boilers at University Hospitals, operated by Medical Center Company (MCCo), polluting the surrounding neighborhoods since the 1930s." This coal plant is not well publicized - my family did not know it existed when we moved to this neighborhood, and my neighbors are generally not aware it exists. Nor is it well publicized that it provides heat to Case Western Reserve University, and that there are plans for MCCO to build another coal plant less than one kilometer from the current plant.

It was certainly not well publicized that the EPA permit for the current MCCO coal burning facility was coming up for renewal with the EPA - apparently they ran an announcement in the PD... did you notice?!?! Now you know.
The association of this coal plant with Case is kept secret as smart young people hate pollution, and there is great negative global attention on campuses that burn coal, including Case.
The Sierra Club has orchestrated a national "Campuses Beyond Coal [2]" program working to move all US and so Ohio colleges off coal and to clean, renewable energy - "Campuses Beyond Coal is a joint effort between the Sierra Student Coalition [3] and the Sierra Club to move our nation's universities beyond coal to 100% clean energy solutions. We aim to shut down or replace campus-based coal plants and end our schools' dependence on the coal-generated electricity they purchase".
In addition to Case, eight other Ohio colleges burn coal, including Oberlin and Ohio University. The Sierra Club intends to get them all off coal.
While inquiring into the current status of the MCCO plant - emissions, violations, etc... - the Sierra Club determined the license for the current MCCO coal facility is pending immediate approval for renewal, and the Sierra Club requested a public hearing.
The Sierra Club just informed me their request was granted... there will be a public hearing about the current MCCO coal burning plant permit on August 10, 2010, from 4:30-6:45 PM - a major victory for Northeast Ohio citizens and our environment.
PUT THIS DATE ON YOUR SCHEDULE AND PLAN TO ATTEND... IT WILL BE A VERY EDUCATIONAL AND EMPOWERING HEARING.
NOTE - BECAUSE OF SIGNIFICANT FEEDBACK FROM THE PUBLIC ABOUT THE INCONVENIENCE OF THE ORIGINAL CHOICE OF VENUE FOR THIS PUBLIC HEARING (AS IDENTIFIED BELOW) THE MEETING HAS BEEN MOVED TO THE MLK CLEVELAND PUBLIC LIBRARY ON STOKES, AS NOW INDICATED FOR THIS EVENT - GOOD WORK CITIZENS!
There is a problem, however - the Public Hearing is currently scheduled to be held at the Eastman Branch of the Cleveland Public Library [4], which is at Lorain Avenue and WEST 116th Street - the MCCO Plant is around East 110th - the EPA has planned the Public Hearing around 230 blocks and a world away from the plant's impact area... few people in the neighborhood of the Eastman library would care about a plant on the far East Side...

It will be extremely difficult for most MCCO -area residents to make it to a meeting at Lorain and W. 116th - it seems this location was selected to make it as inconvenient as possible for MCCO-area residents to attend. Of course, the EPA claims otherwise.

I have contacted the EPA requesting a change of venue to a location in East Cleveland - their explanation for the far-West location was that there were few venue choices available because it is the Summer. While I offered other locations in East Cleveland, and gave the EPA the name and number of my Councilwoman to discuss possible sites here, the EPA did not promise to change the venue.

The Sierra Club agrees this is a significant concern and suggests other concerned citizens contact the EPA with a request to move the meeting near the neighborhoods most harmed by the MCCO plant's emissions.

To help convince the EPA that W. 116th is a poor choice of location for a meeting about MCCO - a coal plant in University Circle - please call Kristopher Weiss, the EPA public interest coordinator - kristopher [dot] weiss [at] epa [dot] state [dot] oh [dot] us, 614-644-2160. Don't be shy... it is his job to handle such citizen requests. If Kristopher hears from enough of us, the EPA may respond to our concerns.
I will keep this calendar listing updated with any venue changes... PUT THIS DATE ON YOUR SCHEDULE AND PLAN TO ATTEND...
Attached is some related literature from the EPA and Sierra Club about coal and MCCO.
Our contacts with the Sierra Club for related matters are Nachy Kanfer - nachy [dot] kanfer [at] sierraclub [dot] org - and Mattie Reitman - mattie [dot] reitman [at] sierraclub [dot] org - and they will definitely welcome any outreach from you with questions and offering help.
I look forward to seeing you in August.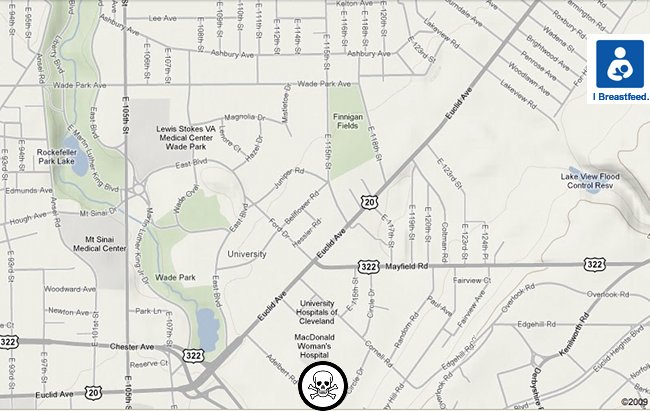 Martin Luther King Jr. branch of the Cleveland Public Library
1962 Stokes Boulevard
Cleveland
,
OH
44106
United States