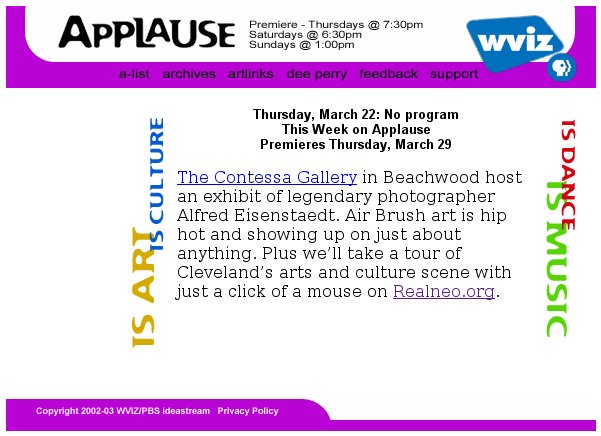 I was quite honored to be contacted, a few weeks ago, by the producer of one of my favorite television programs, Dee Perry's "Applause" [1], asking for information about REALNEO. Seems he was doing research on the spectacular Convivium 33 Gallery [2], which we have featured extensively on REALNEO, covering Christopher Pekoc here [3] and Clarence Van Duzer here [4] (photos from which were featured in Cleveland Magazine [5]), so REALNEO came up in search results. The producer saw REALNEO as in interesting source of insight on arts and culture in NEO and suggested to his staff doing a segment on Applause about REALNEO. Even though we scheduled the interview, this seemed very abstract until I just saw a promotion on WVIZ for the show, featuring a scrolling view of the REALNEO home page.
In addition to sharing insight about REALNEO, this Applause program will have a segment on airbrush art, which sounds fascinating, and a feature on the current Alfred Eisenstaedt photo exhibition at Contessa Gallery [6]. As a photographer, myself, I'm thrilled to be on a program that also features the work of one of the greatest photographers of all time!

I'm filming the segment with Dee this Tuesday and it will air this Thursday, March 29, at 7:30 PM, Saturday, March 31, at 6:30 PM, and Sunday, April 1, at 1:00 PM. As always, I'll be capturing the experience for REALNEO - so expect to see some inside photos and insights about this experience post on REALNEO, Tuesday, March 27. We'll also plan to have a screening party Thursday, March 29, from 7:00 PM to 9:00 PM, at the great A.J. Rocco's [7] - 816 Huron Road, Cleveland, Ohio (by E. 9th Street... every Thursday, $3 pints).