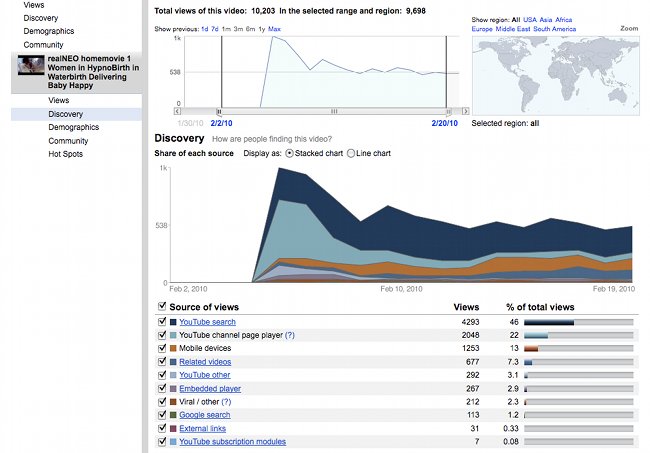 I'd like to introduce realNEO to the real world of global social media content development - the birthing of a successful independent documentary on hypno-birthing, for distribution on the Internet. The screenshot above is the traffic analysis of Internet access via YouTube to "realNEO homemovie 1 Women in HypnoBirth in Waterbirth [1]", which has had over 10,000 views in two weeks, and is averaging over 500 views per day now. This is just a clip from a larger documentary project, which will still be high definition, under 10 minutes long, and distributed largely by Internet. Another clip from this project has nearly as much traffic on YouTube, in two weeks.
I won't go into the details of why this particular video is successful and important, or analyze the drivers of its success for you, as that is not so important to you. What matters most to you is that a family in Cleveland had a baby and used information technology well to make the world better, and in the new economy that is the secret to the success of our region - doing that well, over and over again, as ofter and quickly as possible.
Welcome to the new economy, being born in unreal NEO, in Clara's case via realNEO [2]...., with over 1,400 reads there, 1,000s of reads elsewhere on realNEO, and 10,000_ reads around the world, thanks to this community. Thank you Evelyn and Clara, for making this point so beautiful.