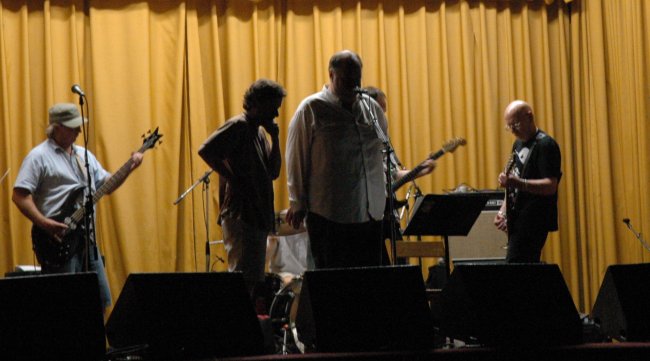 David Thomas (and Rocket From The Tombs) soundcheck - Beachland Ballroom 2006
The first time I saw Pere Ubu was over 30 years ago - 1978 - celebrating their first album, which they will feature again March 5th, to celebrate the 10th Anniversary of the Beachland Ballroom - Modern Dance.
If you love real NEO, plan now to attend this important show. Read about David Thomas, Pere Ubu, and his other recent creative trips through town below...
Seeing David Thomas perform anything, live or by video [1], makes me about as happy as I get... photo above from their Rocket From the Tombs show in 2006 - sound check and interview notes here [2]. - brief write-up and more photos here... More to come soon, from Rocket From The Tombs (and, yes, it was the best) [3]!
From his last visit bringing Pere Ubu to town, also in 2006 - preview and event announcement here [4], and write-up and photos here [5]...
And, learn more about David Thomas and Two Pale Boys, which played the Beachland Tavern in 2007, introduced on realNEO here [6]... and featured here [7].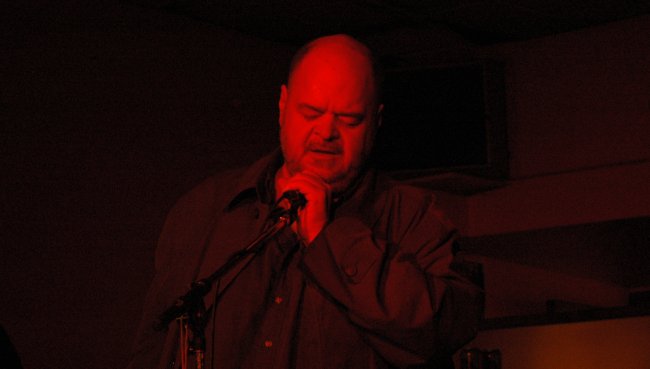 For March 5th's special Beachland Ballroom 10th Anniversary Concert, Pere Ubu will be performing all of Modern Dance.
From Wikipedia [8]:
Their debut album, The Modern Dance [9] (1978), sold poorly, but has proven influential. Musicians of many types, including progressive rock [10], punk rock [11], post punk [12] and New Wave [13], were influenced by the dark, abstract record. With the song "Sentimental Journey," the debut also introduced the practice of re-appropriating titles from well-known popular songs: Pere Ubu's "Sentimental Journey" has no obvious relation to the Doris Day [14] hit song of the same name [15]; "Drinking Wine Spodyody" has no apparent connection to the Sticks McGhee song (later revived by Jerry Lee Lewis [16]). This practice has continued through 2006's Why I Hate Women [17], which has a song called "Blue Velvet" (again, no relation to the 1963 hit song [18] by Bobby Vinton [19]).

Special note should be made of Ravenstine's contributions to Pere Ubu. While most synthesizer players tended to play the instrument as they would a piano [20] or organ [21], Ravenstine generally opted instead to make sounds that were reminiscent of spooky sound effects [22] from 1950s science fiction [23] films, or perhaps electronic music [24] and musique concrète [25]. One critic writes that Ravenstine "may be one of the all-time great synth players" [12] [26] and his playing has been called "utterly original" [13] [27].
[28]
Fri, Mar 5| 9 PM (8 PM door)
Beachland 10th Anniversary Weekend! [29]
Pere Ubu
The Modern Dance Album will be performed in its entirety! / Short Rabbits
$20.00 - buy here [30]
Ballroom | All Ages

And here, as a special preview, is video of Pere Ubu performing Non-Alignment Pact and Modern Dance in London, just last Friday, Fabruary 26, 2010...
This is ICE!
Beachland Ballroom
15711 Waterloo Road 10th Anniversay Weekend Concert
Cleveland
44110
United States