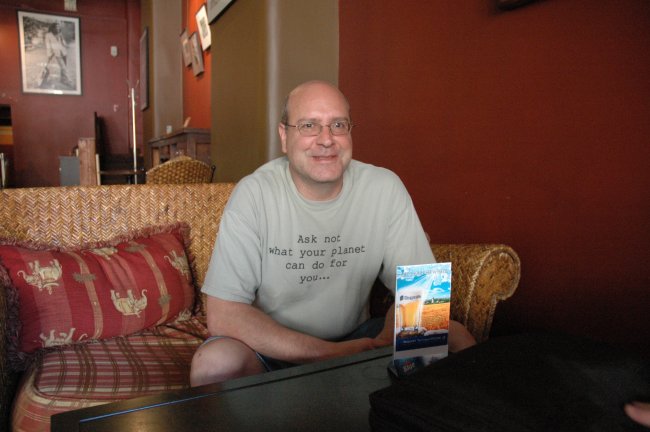 Citizen Ed Hauser, Victorious In The Battle Of Whiskey Island [1] - "Ask Not What Your Planet Can Do For You..."
It has been a year since Northeast Ohio lost our selfless civic activist "Citizen" Ed Hauser, silencing the great voice in the community saying that "The Process is Broken".
November 14, 2009 - the one-year anniversary of Ed's death [2] - a group of family and friends came together on the beautiful Whiskey Island Ed saved, before a late Autumn setting sun, to toast a glorious man, and mourn a most cursed and horrible year in Northeast Ohio without Ed.
What does the dawn hold for this long-suffering region, in the second year without Citizen Hauser?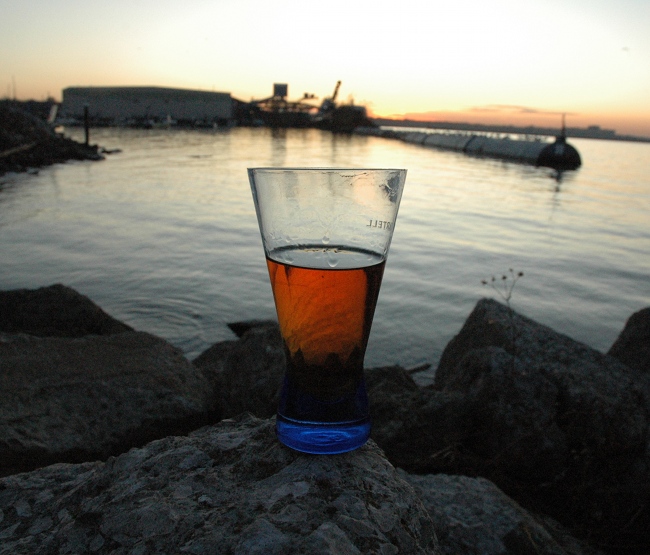 Ed's friends and family are slowly surfacing from the numbing shock of Ed's sudden loss, but Northeast Ohio is just starting to show the real consequences of the silencing of the region's #1 citizen.
As I sadly pointed out to Ed's sister, at this latest memorial celebration, Northeast Ohio has suffered greatly in the past year, without Ed's watchful activism, and the resulting risk to citizens is in the $ billions.
As we discussed Cleveland's decline, now that we seem devoid of citizen activist leaders like Ed, the disgraceful City of Cleveland demolished-by-neglect National historic landmark and embarrassment Dyer Coast Guard Station [3] stood in the distance, as an exclamation point on the statement our leadership is failing citizens, and not moving the region in the right directions.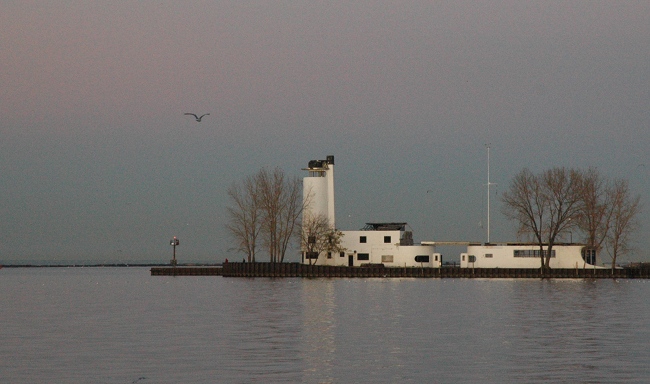 The failure of Cleveland leadership to appreciate and renovate this historic landmark Coast Guard Station is a highly visible sign Ed's pressure is off.
But, lack of public awareness and oversight surrounding failing Port Authority, MedCon, ODOT, Opportunity Corridor, SII and Flats planning and leadership are the most significant regional tragedies resulting from Ed's death... putting many $ billions of citizens' money at risk.
All these initiatives are absolutely squandering taxpayers money, in backward decline for the region, and all are core regional initiatives only Ed Hauser was monitoring for the citizens.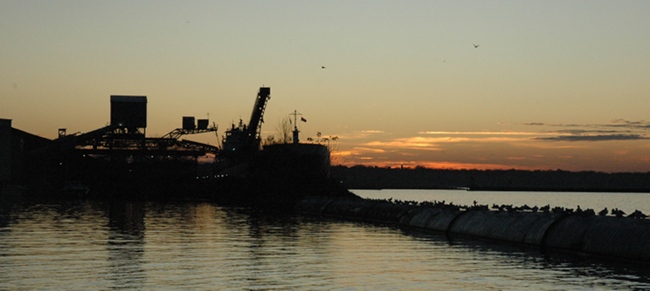 With Ed dead, our corrupt and incompetent leadership has been completely free to be rampantly corrupt and incompetent, with passion, without real challenge.
While we in Ed's REAL COOP/REALNEO community have tried to cover some of the ground Ed walked, Ed was so important to the region that all our efforts combined have failed to compensate for his loss, and provide the independent, precise, diligent, all-consuming intelligent community oversight he provided, that region-altering visions require.

Nobody in the region comes close to providing the same service, despite the $100s millions we spend here on our leadership.
Ed was never paid a cent for his $ billion role in the community, by any of these $100s millions of failing leaders... and Ed died for that fact.
Perhaps the failing leaders of Northeast Ohio miss Ed now, as they personally fail, for lack of integrity and responsibility in the community, from the top down to the bottom - the "Lord of the Flies" effect drags everyone to the same low level.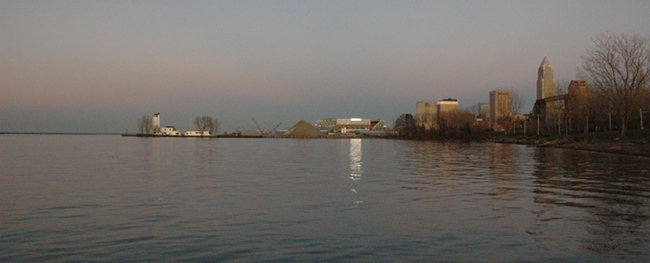 But Ed's memory and heritage shall always shine brightly, rooted most permanently on Whiskey Island. Ed rose above the corruption and incompetence here and will forever be remembered by his friends and family in the community as one of our greatest leaders in our regional history.
The public will always know Ed for winning the Battle of Whiskey Island [4], and for going Hauser Way, but those who knew Ed and his work in private know Ed as a primary inspiration in our lives.
We need to keep that inspiration alive in Northeast Ohio, even though Ed is dead.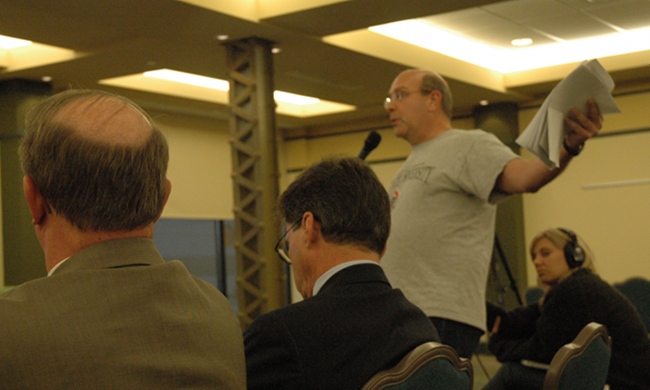 I was pleased to learn from one of Ed's sisters that, in her time of sorrow over Ed's death, visiting postings abut Ed on REALNEO has helped her appreciate the impact Ed had in this community, and that his life had great value here. REALNEO has eased the pain of Ed's loss.
Ed Hauser [5] was an early member of REALNEO, and his impact will be felt here forever. Ed worked as part of the original team deploying this social network into this community - he will always be a loved part of this community.
But, has REALNEO and its membership really helped carry Ed's good work forward, since his passing.
Who else will write the history books our children will read, about heroic citizens like Ed Hauser? Who else will write the next chapters left unfinished.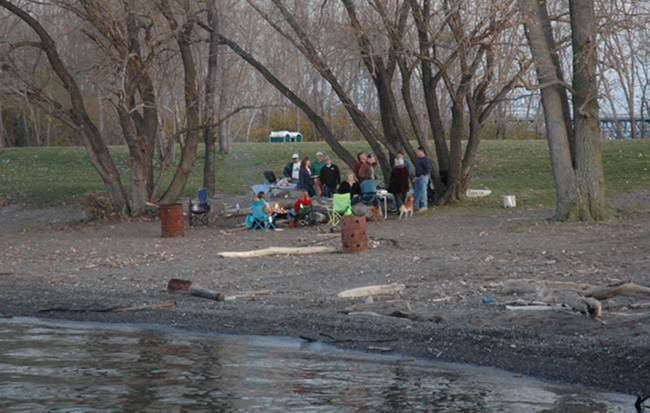 A diverse group of Ed's friends and family are united in love for Ed, and carry his torch forward. We did not all know each other before Ed's passing, but, through Ed, we all know what one great man from our mean streets may accomplish.
Through REALNEO, many of us and others remain united in support of Ed's causes.
But, have even the most inspired among us really taken his lessons to heart, and soul, and have we taken enough steps to further Ed's trailblazing activism for the best future of Northeast Ohio and our citizens, as Ed would have done?
Now, a year after the passing of our friend Ed Hauser, please share your thoughts on how his loss has impacted our community, in the past year, and how we may better address the great void left in his absence, now that the immediate emotional pain of his death is passing.
100,000s of us should be able to make up for the loss of one great man, if we all pull together.
To Ed!