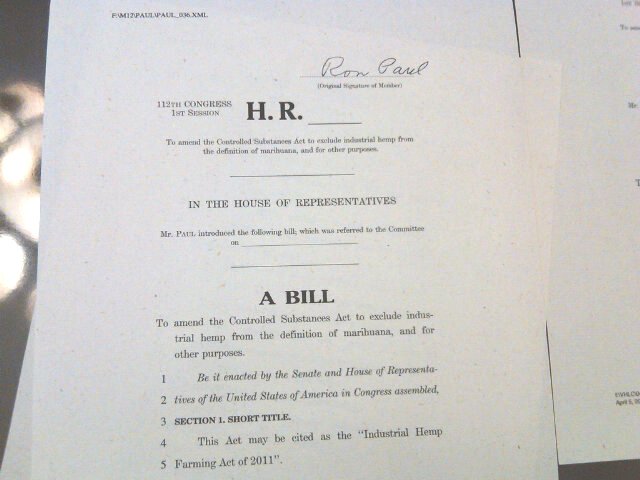 Ron Paul [1]'s signature on hemp paper version of the Industrial Hemp Farming Act.
realNEO readers are among the first to see "The Industrial Hemp Farming Act of 2011, To amend the Controlled Substances Act to exclude hemp from the definition of marijuana, and for other purposes", signed by its sponsor, US House Representative of the 14th District of Texas Ron Paul, around 1 PM today, May 11, 2011, and introduced to the US House of Representatives to be enacted by the Senate and House of Representatives of the 112th US Congress.
As Paul previously concluded, in a a statement for Hemp History Week [2]: "The federal government should change the law to allow American farmers to grow this profitable crop as American farmers have through most of our nation's history. I plan to reintroduce the Industrial Hemp Farming Act next week."
Paul clearly is a man of his word. Above is "The Industrial Hemp Farming Act of 2011"... on hemp paper, and below is Ron Paul signing the bill.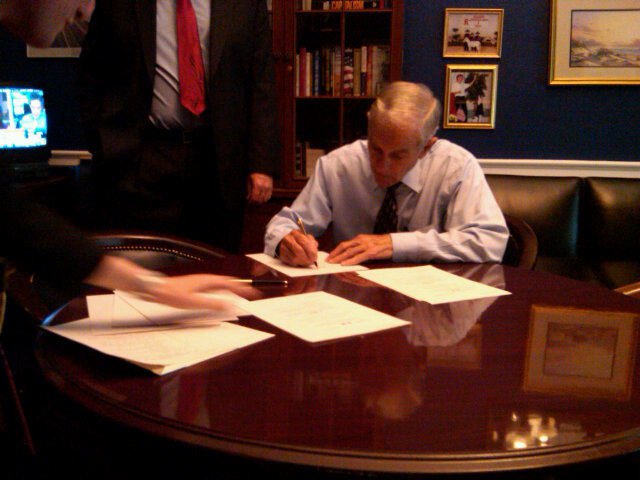 Ron Paul [1] signs copies of the Industrial Hemp Farming Act, which is printed on hemp paper.
This is as real as is the fact that hemp is superior to wood for making that paper... and that the hemp for that paper must have come from outside America, as it is illegal for American farmers to grow hemp in America... even as it is about the most profitable industrial crop a farmer may grow on God's Green Earth. A Canadian farmer likely profited to make that paper... perhaps Belgian... Indian... Chinese... definitely not the work of an American farmer, in America today.
And that is the core point of "The Industrial Hemp Farming Act of 2011" - to create new jobs in AMERICA, TODAY! Save the Environment and our Economy, TODAY... not in 2012, or the next term of Congress... or the next Presidency!
It is hard to overlook that it took a Tea Party to bring this economy-saving bill to Congress. How this Act plays out may very well determine who sits in Congress next year, and who is the next President of the United States of America... and it would be very foolish for some city-slicker politicians to try and derail this freedom train... especially as the greatest benefits will be felt in urban cores, like Cleveland. Clevelanders vote, just like farmers do, and Clevelanders want hemp.
This is a great victory for the global economy and American hemp industry... victory for farmers in America and rural America... victory for American industry and urban America... victory for global consumers and all the world's citizens - a victory for all Americans, as legalizing growing hemp in America again shall CREATE JOBS AND TAXES and reduce our reliance on petroleum and other scarce, highly toxic, largely-imported resources, and so will improve our environment and economy while providing renewable perfect foods, fiber and feedstocks for industries... leading to products not yet discovered. All that will improve life on Earth for you, including creating 1,000,000s of new business opportunities and jobs you may want to pursue, all across America.
Development of the Hemp Farm Act has been orchestrated by the Hemp Industry Association and their Vote Hemp political action organization - an open community of "hempsters", as Hemp Industries Association (HIA) President Steve Levine says - with members who have started and developed significant businesses in the hemp industries - increasingly worth $ billions - and who have driven and funded legislative change at the state and Federal levels to legalize growing hemp in America, for decades now. Their lobbying organization, Vote Hemp, has been leading this charge in DC, and has had great impact in the past few years, leading to a Hemp Act that will now pass through Congress into law.
Vote Hemp President Eric Steenstra and lobbyist Ben Droz have done a great job bringing industrial and legislative forces together - and across the aisles - in support of developing the hemp economy in America.... and in support of Ron Paul's Hemp Farm Bill. The bill has 21 original co-sponsors! This year, the Hemp Farm Bill and other government action will lead to the legalization of farming industrial hemp in America, and you have always read that here on realNEO first.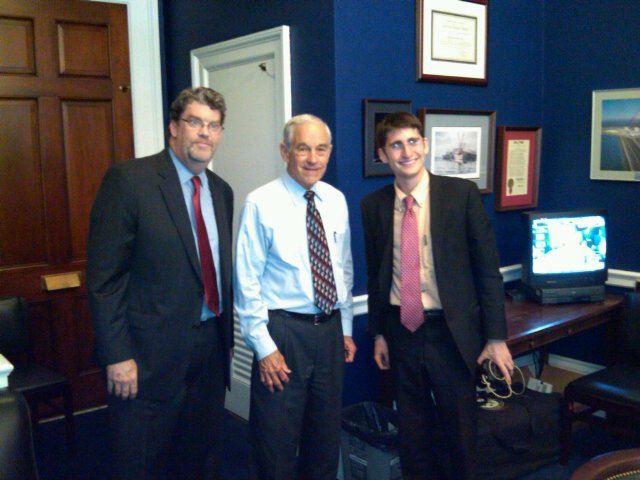 Vote Hemp [3] President Eric Steenstra, Ron Paul [1] and Vote Hemp lobbyist Ben Droz [4] pose for the record on new hemp farming bill.
As I previously reported on realNEO [5], "Hemp Industries Association (HIA) President Steve Levine - speaking to membership at the 2010 Annual HIA Convention, November 08, 2010, in San Francisco - indicated developments were positive for a 2011 version of Ron Paul's Federal Hemp Farm Bill to pass congress and become Federal law in 2011, making it legal to farm hemp nationwide in 2012 - "as hempsters, we did not lose one of our sponsors for the bill - all 25 were re-elected". This is one of the most important economic development forecasts for America of the 21st Century, to-date."
Hemp Industries Association (HIA) President Steve Levine - speaking to membership
at the 2010 Annual HIA Convention, November 08, 2010, in San Francisco

Is OHIO ready for the legalization of farming hemp in America?
Yes... we are in ways the best prepared state in America, for a change, as we are home to the United Cannabis Exchange (UCANX), an initiative of IntraCom Co., LLC, of Cleveland, Ohio, since 1996, which is being developed by "Hempsters" and other bleeding-edge scientists to be the global commodities exchange for all industrial hemp and medical marijuana feedstocks, to be based in Downtown Cleveland, Ohio.
I'm a co-founder of UCANX - donated IntraCom to that, for our legal entitiy - and I am the organizing Chairman, bringing together our long term industry leaders to organize the hemp industry to scale into the $ trillions.
As I previously introduced to realNEO, meet UCANX co-founding Board member and extraordinary hempster Agua Das - alumnus, Case School of Engineering... from I'm Pleased to Introduce to Real NEO Hemp I Scream - and to Reintroduce Hemp Innovator and Case Alumnus Agua Das [6]:
I went to the Hemp Industry Association conference [7] looking for hemp-based energy solutions, to help address our pollution crisis in Northeast Ohio, and I found a delicious, healthful hemp dessert, too - Hemp I Scream [8].

As I learned more about the inventor of Hemp I Scream - the founder of Hemp Sources, Inc. - Agua Das, I discovered he is a world leader in hemp innovation, including for energy - "Agua was the first person to make hemp bio-diesel fuel in the modern hemp era in 1993; made from virgin hemp oil he pressed himself [9]."

As I got to know Das better, I learned he studied engineering at Case, and still has good feelings for the school and Northeast Ohio. He lived on Hessler, and was involved in starting up the Street Fair, in the beginning... we know some of the same people still there, from way back.

So the expert with the energy solutions we need in Northeast Ohio studied engineering in Northeast Ohio... and makes awesome desserts, too. Nice coincidences.


Agua Das, founder and inventor of Hemp I Scream, at KushCon2 [10]

I'm working with Das and others to develop the United Cannabis Exchange (with plans to base that in Cleveland) - a global commodities exchange for industrial hemp and marijuana - so I am helping hemp innovators like Das to grow their hemp enterprises... and develop more market and development relations in Northeast Ohio.

Mission:
The United Cannabis Exchange (UCANX) is founded by farmers with a shared mission to supply the world with fair trade cannabis crops, for industry, energy, food and health-care, grown with and for environmental, economic and social justice for all. UCANX connects fair trade cannabis farmers with fair industrial hemp and marijuana customers, worldwide.
We could use real NEO's help growing the hemp industry here, starting by sharing dessert.
Other leaders of the Hemp industry and bioresource innovation who are co-founders of UCANX, and have roots in Ohio, include Fred Hargrove, CEO of Hargrove Engineering, of Cincinnati, Sergio Lebid, co-founder of NanoSpire, who operates from Cleveland, and Jamie Melvin, founder of Sansai Environmental Technologies, in Collinwood, Cleveland.
More about our Ohio-roots board:
From We do not know of any coal-fired power plant in the world that has a sustainable, locally-sourced system to cofire with hemp [11], realNEO readers have already learned:
Hargrove Engineering, of Cincinnati, Ohio, proposes DP&L burn 1,000,000s of tons of Ohio-grown hemp - the THC-free industrial variety of cannabis - grown and produced in Ohio, to reduce the pollution caused by burning coal in Ohio - this is called cofiring coal with biomass - this being the first such proposal to cofire coal and hemp biomass in a sustainable, systematic, local way in the world, that we know of in history.... and that is no laughing matter.

The United Cannabis Exchange (UCANX) [12] is pleased to confirm Hargrove Engineering, of Cincinnati, Ohio, has proposed to develop renewable, locally-source hemp biomass fuel in Ohio, USA, for DP&L to cofire with American coal at the O. H. Hutching Dayton Power and Light coal plant, located between Dayton and Cincinnati, Ohio.
Hargrove Engineering, the UCANX team, and other experts around the country are now registered to bid for a completely different type of hemp-based power generation system for Arizona Public Service [13]... we are beginning the process of powering America with American-grown hemp, as should be.
Arizona Public Service Company (APS) RFP [14] seeking 70,000,000 kWh annually of eligible renewable energy and associated environmental attributes from small generation projects (2-15 MW) to meet the requirements of the APS Small Generation Program. This RFP is not seeking distributed energy offers. Fully executed Confidentiality Agreement posted by bidder to PowerAdvocate website by May 10, 2011.
From Now this is a team Clevelanders can really fight for, and real NEO can really love! Go Sansai! [15] you know one of the other unique resources UCANX may bring to cannabis farming and commerce, being systems for growing the world's purest, best, organic fertilizer...:

UCANX co-founder Keith Winston with Sansai's Maureen Browne and Jamie Melvin, of the UCANX Board

The ICEarth Welcome Wagon stopped by Sansai Environmental Technologies this weekend to tour the world's largest indoor vermitechnology facility and meet Cleveland's greenest, meanest, fighting machine - the 60 million worm team bringing the world "Magic Dust". See Sansai for more information on their amazing processes and products [16]... here are some pictures of their crib, right in the heart of South Collinwood - Cleveland - Ohio.
If you don't know Sergio Lebid, you don't know nanotech. How nanotech applies to cannabis - hemp and marijuana - has the whole industry a-buzz. Let's just say, nanotech WILL make cannabis better... for industry, health and nutrition. About NanoSpire [17]:
NanoSpire, Inc. is an IP holding company founded in January 2002, to commercialize a new generation of cavitation reentrant jet-based tools and processes. NanoSpire provides the first machine tool capable of cutting, drilling, welding, hammering, and annealing materials only a few nanometers in size by harnessing cavitation microjets. NanoSpire has developed the next generation of high-shear mixer based on its patented technology. NanoSpire has also developed several advanced technologies for energy production.

NanoSpire's team has been invited to present at numerous nanotechnology conferences. NanoSpire won the prestigious Innovation Technology Award at the Nanotech 2003 + Future Conference in Tokyo. NanoSpire invites inquiries concerning investment, licensing, joint ventures & consulting. NanoSpire's business and technology focus is the harnessing of high speed liquid cavitation reentrant microjets.
Expect to see many mind-blowing cannabis-based nanotech discoveries, inventions and products to be developed and manufactured in Northeast Ohio, as a result of these convergences.
As I proposed for Northeast Ohio, June 11, 2010 [18], becoming the Open Source Capital of the Brightest Greenest State of Earth will have it's advantages for citizens - we get to be the center of the newest, most exciting new green economy on Earth.
I know many local communities of Northeast Ohio where leaders and citizens are ready to choose to legalize cannabis crops and products and services now, and I know of no possible economic development opportunities that show higher public support than legalization of marijuana in Ohio for medical purposes - I believe the polling is around 75% in favor [19].

realNEO visitors have polled even more strongly in favor (place your vote here) [20]

Who would argue against legalizing hemp for food, clothing or fuel...?

Who would argue against legalizing marijuana for people suffering from pain...?

Who would question the economic importance of these cash crops in the American and global new economy, and who would deny that opportunity to the citizens of our region?
I organized UCANX to be based in Cleveland - and donated my Cleveland-based company IntraCom for this - because I determined this is the best location in the nation to base the global cannabis economy, and other leaders of the hemp and marijuana industries feel the same way.
At the end of the segment of Steve Levine's presentation to the Hemp Industry Association above, which I video-taped, I announced to the HIA and hemp world that I was there to represent OHIO, and that Ohio intends to be a world leader developing the hemp industries [18] - Levine responds "we can all participate in getting this done". As Steve Levine says in this video, we have "a perfect storm for a hemp farm bill".


HIA Members at their 2010 Annual Member dinner, at Fang Restaurant [21], San Francisco.
Every dish at the banquet featured hemp in the preparation, and was delicious!
Are you ready for a new hemp economy in the rest of America?
For more information... keep reading realNEO.
Hemp Industries Association: http://www.thehia.org/ [22]
Vote Hemp: http://www.votehemp.com/ [23]
Hemp History Week: http://www.hemphistoryweek.com/ [24]