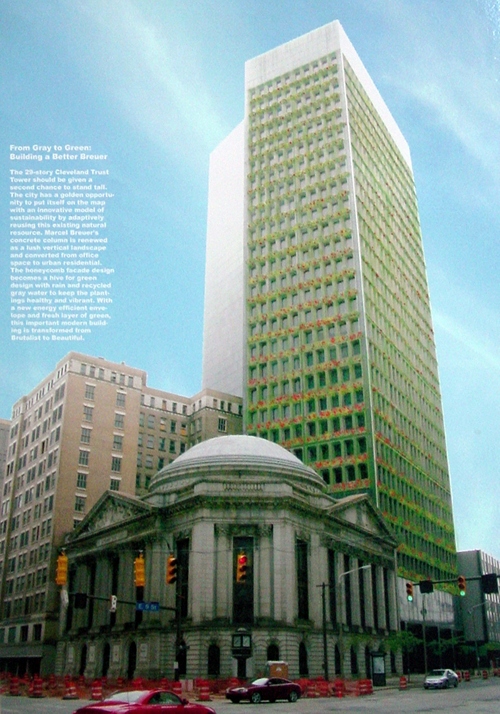 I'm pleased to announce the coming-together of a Bright Green NEO PAC (Political Action Committee) to develop legislation, distribute petitions, and place on the November 2, 2010, Cuyahoga County general election ballot one or several collaborative local issues to grow $ billions in new economic development activity through enlightened legalization of cannabis crops and derived products, industries and services. The industrial variety of cannabis (hemp) is one of the faster growing biomasses known, and is grown for paper, textiles, biodegradable plastics, construction, health food, fuel, and medical purposes - it is very environmentally friendly as it requires few pesticides and no herbicides. The medicinal variety (marijuana) is processed for recreational, religious, spiritual, and health purposes.
Without going into too many details, I've proposed Bright Green NEO economic development initiatives for select economically distressed communities of the Northeast Ohio region. But, I believe all of the state of Ohio will eventually go bright green as the people of the state demand the option. All citizens of Ohio should have the opportunity to benefit from related economic development initiatives and through legal access to industrial and medicinal cannabis products as soon as possible. There are many state-wide medical marijuana initiatives already underway and in place across America - for Ohio citizens to be denied legal access to this new economy health and cashcrop opportunity is regressive. That is unacceptable, for one of the world's greatest agricultural economies.
I know many local communities of Northeast Ohio where leaders and citizens are ready to choose to legalize cannabis crops and products and services now, and I know of no possible economic development opportunities that show higher public support than legalization of marijuana in Ohio for medical purposes - I believe the polling is around 75% in favor [1].
realNEO visitors have polled even more strongly in favor (place your vote here) [2]
Who would argue against legalizing hemp for food, clothing or fuel...?
Who would argue against legalizing marijuana for people suffering from pain...?
Who would question the economic importance of these cash crops in the American and global new economy, and who would deny that opportunity to the citizens of our region?
For reference, marijuana is being legalized and decriminalization in various ways at a rapid pace around America. Most recently, The Coalition for a Safer Detroit [3] has driven a successful campaign to bring to a vote amendments to their city code to eliminate criminal penalties for use or possession of less than 1 ounce of marijuana by adults on private property, and Michigan has had progressive marijuana policies since the 1970s.
For more on marijuana policy developments, see http://www.mpp.org/ [4]. For the perspectives of 500+ of the world's leading economists (including 20 from Ohio) on the economics of legalizing marijuana, see "Milton Friedman, 500+ Economists Call for Marijuana Regulation Debate; New Report Projects $10-14 Billion Annual Savings and Revenues [5]". As an economist who has seen this issue debated by William F. Buckley and John Kenneth Galbraith, around 1980, I can say I have never doubted the economic burden of prohibition on American society - the opportunity offered through development of these economic sectors is transformational at many levels we shall now explore as a community.
I have had serious discussions with a large community of regional attorneys, politicians, businesspeople and other citizens about the opportunity offered to our economy through legalization and cultivation of these industries, and I've never met a leader/citizen of Northeast Ohio who is not completely supportive of this objective, to the mission to making this region a world leader in cannabis-related research, development and commerce. At that state of the art, we shall expect to create 10,000s and then 100,000s of related jobs, while redefining social justice for our people, neighborhoods and the world, from a place globally recognized as in need of greater social justice.
I am posting this to realNEO as an open invitation to the citizens of the community to collaborate on this fast-track initiative. We have limited time to place a related initiative on the November general election ballot, and then we have a new economy to plan for the community... new crops to grow, process and commercialize in ways not possible here or anywhere in America before. If you are interested to participate in developing and benefiting from this important new sector of brightest greenest economic development in Northeast Ohio [6], feel free to comment and discuss this here, and please email me directly at norm [at] realneo [dot] us.
Hemp powered car visits Knox County fair [7], with Don Swearingen of Apple Energy - explaing the making of biodiesel from hemp seed oil